... I really don't see any scientific logic behind @Jaegernaut's reasoning. Do you?
I did have a scientific reasoning it has simply been proven false I am trying to be graceful loser by not insulting you. can you please do the same?
Whoa man, let's not get into a fight here. I wasn't trying to insult you in any way. Sorry if it came off like that.
Its fine just lets end the argument.
the 07 blasters were the best I really liked both crodak and squid launhers and I still am looking for more squids
Least favorite: Squid Launcher
Favorite: Midak Skyblaster and the Protector guns.
I don't understand how most people dislike the squid launcher I do know that it is hard to use at first
Because folk are impatient.
i gotta go with the kanoka as the best, something about launching disc was always fun to me, it feels like something a biomechanical race of beings would use.
i've never had a squid launcher, so i can't really say anything on it.
out of all the launchers i've delt with, the cordak's only issues is its weight, the nynrah's issue is it doesn't fire but 2 inches infront of it, the zamor launcher's ammo is always falling out, the spinner fires once, and you'll never see it again, the skyblaster is also, way too big, worked great though. and the thornax, although kinda underwhelming in appearance, worked great as well.
the Stud Cannon is a really cool weapon. i think that it probably (definitely) has the best customisation of any of the blasters to date. it holds the most ammo of any blaster (on par with the cordak blaster). it even has decent range. its problems lie in its retrivability and its power. these are definitely some of the worst ammo in terms of retrivability to date. they are so small! it doesn't help that the pieces are all (except for Korgot's) transparent. the blaster also lacks the power to really push over a bionicle figure. so using a changed version of the ratings set by @Veneras i will now give my final results to the Stud Cannon
Things added: Ammo (without reloading) and customisability
Stud Cannon
Power: 4
Precision: 5
Retrievability: 2
Relevance: 4
Ammo: 9
Customisability: 10
Average: 5.7 (Rounded)
although the start of these ratings are quite bad, the blaster makes up for this with its ammo and customising potential which scrapes it past the pass mark of 50%.
Those catapults man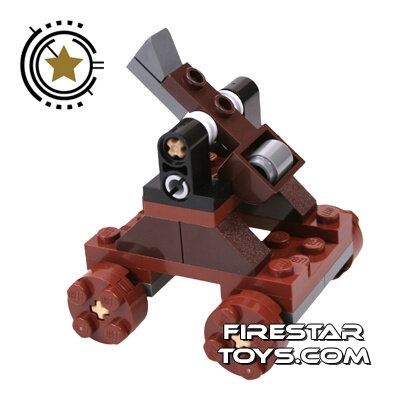 Those were the worst
Don't ever come near me or my children ever again!
(I don't have kids.)
Those catapults man

Those were the worst
You know these were terrible when a one eyed guy named Gilbert the Bad designed a better one.
*best-cordak
worst rhotuka
Cordak and Squid Launchers always work well for me
RHOTUKA HOWEVER…
The only problem I had with Rhotuka is that, well, they can't be aimed like the others. I never had a problem with launching them, but I couldn't hope to make them hit anything with any precision.
I liked most of the launchers, (i don't have the skyblaster or a squid launcher) but the Cordak blaster was a PAIN! The missles were too easy to lose and the ball joint actually broke off for me.
Really? Care to elaborate? Cuz that balljoint shouldn't have a natural weak point.
Can I get some love for the G2 shootrs? I just like how small and satisfying they were.
I have literally no clue. It just broke. I don't have it now.