Wow. That looks simply fantastic! Faber is clearly up for something amazing.
Make sure to look at the rust
I think it's supposed to look like something in particular. But I can't quite tell what. Very interesting.
It's weird how low resolution the background is, especially with how the canister is higher resolution. Not quite sure why that would happen unless the background assets were rendered seperately.
Maybe this "image in the rust" is a rusted figure that can be seen through the semitranslucent cannister.
Heres also a more or less well upscaled crop of the cannister, for better interpretation/conspiracy-theorycrafting.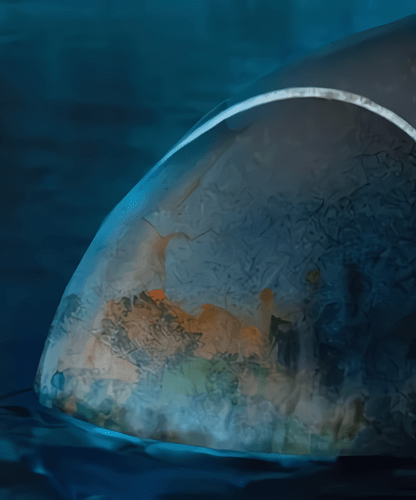 Maybe the lighter area is supposed to be the shape of an island?
This just keeps getting better and better.
Looks like text, saying something like "Gali"?
strangely the reflection reminds me of Web of Shadows, in which Matau looked into the water and saw a reflection. Could be wrong, but this strangely reminds me of that scene.
Could be wrong, but given the sharp levels of contrast around the iceberg edges and the surprisingly crisp lava flow, I'm betting these were free stock images of actual icebergs colour-corrected and slapped together.
Here's my incorporation of the rust.

I see people. Warriors maybe. The one on the left is big and powerful. It reminds me of the GSR. The one on the right is smaller, ans seems to be holding something rectangular. Iike to think its a war flag, but it could be a lot of things.
Behind them are towering flames. Perhaps the buring remains of a fresh conquest.
Like maybe looking too deep into random patterns of rust on a canister
I really don't think there's some hidden message in the rust
Maybe, but it's fun to look into the details.

My incorporation of the rust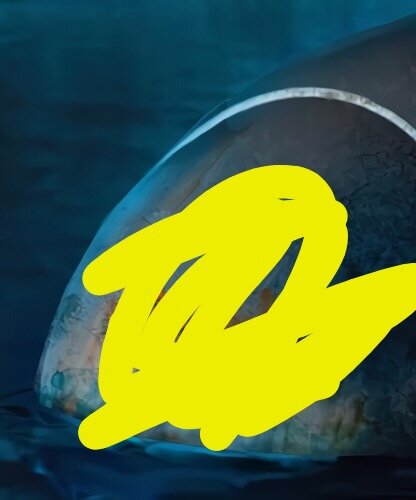 I have no idea what it means, if anything.
My interpretation of the rust
It's obviously a Skrall Shield
I never imagined we would get a new Bionicle meme since 2016.
Noice.
I see text, it looks like a 3, an L, and an H. could it be that the 3 in the original logo means something different?
Could it be… Half-life 3?
~Q12~
Did I accidentally start a meme?
I'm honestly so happy this is happening. Even if it doesn't go super far (which looking at things now that outcome fortunately isn't too likely) I'm just so happy that it's been able to spark life and community within the Bionicle fandom.
Why has everyone started to make those joke interpretations of a random canister?