I would eat him up, like a beast.
What is this chocolate lava beast, and where can I eat, I mean meat it.
Wait… no I meant eat.
Am I the only one who thought of Thok when I saw the face?


Also, great drawing.
Now that I look at it, it does seem rather Thok-ish.
huh, never thought of that
and thanks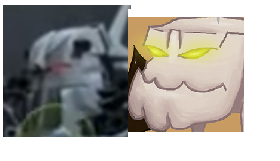 yeah they do kinda look alike, but only when Thok has his mouth closed…imagines cake beast with giant Skakdi teeth
That would look like chibi Thok, only cake. Also, how do you do that strike through, with the text.
10/10, would serve at a birthday party
"Freaking sensational" is the best phrase to describe this drawing. You weren't by any chance trying to make Cake Beast look like a Skakdi skull, were you?
"That's the vile Cake Beast. He wields a giant mace, shredder claws, and promotes childhood obesity among the Okotans. Each one is an ancient menace that must be stopped! -Onua, The Journey to One
Can this be his theme song? I'm declaring this his theme song.
Spoiler on it because some foul language.
I just remember finding it on tumblr once.
Back on topic though, what kind of cake is Cake Beast?
OH LORD NO TOA COULD EVER DEFEAT SUCH A STRONG BEING, WITH SUCH POWER! I MEAN JUST LOOK AT THAT FROSTING! THATS FLIPPING EVIL RIGHT THERE! DANG MAN! NOW IM SCARED! WOW MAN. I DONT KNOW WHAT TO SAY!
I thought that this drawing had something to do with the Skakdi before I read the title, so… No, you're not the only one.
Yeah, because why not…
it actually looks very good.
Kind of wish I had the set know
Why does it have a piraka skull as it's "cake" bit?
This is way funnier than it should be!