Pronaunced: ceeNork or Zeenok

Where to start but a few years ago.
I began doing digital art in 2013 when My Necronmania was at it higest (Not an actual mental condition, ) Warhammer 40.000 race. in short( undead robots ninjas(IN SPACE))
I will share with you my tale: And those few that knows me already will know there will be pictures.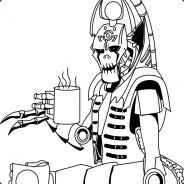 In the time I began doing digital art I keept to mecanical and often simple lines to learn.
It took along time but I mastered the usage of a mouse to draw digitally. (go into paint and try that, you will understand soon enough)
Lack of a drawing pad aside I evolved.
I even tried my hand at 3d

... Errors was made but learned from.
And since then I only improved:

Did I mention I love Necrons?
Keep Scroling guys MORE STUFF FURTHER DOWN