Don't worry about it, everything is under control
I gotta eat dinner, but I'll be back soon
Lemme point out I loved the interactions so far, from Bruce with Raphael to White Hood and Yakiv lol.
@Mctoran dude, it's Katrina and Bruce, not Kaytrina and Brice facepalm please fix this. I never misspelled your characters name, like never.
This time…I'll say it once… What is a God to a nonbeliever?
Well then,…Time to take a leaf out of Asura's book and punch the problem until it ceases to be…
So, how are we gonna kill the Architect? The three ways I could see it being done are the Naruto route where it's just a matter of sealing the target, the route where the PCs practically become deities (like Asura did when he fought Chakravartin) or the deitic being gets turned 'mortal' somehow (like with magic or outright taking away their divine power)
I don't even have the slightest of clues and Mctoran won't tell us…at least, not now. He is not done playing with us.
We don't win this, here's how it ends.
you can kill the architect, it's not. impossible. you'll all see eventually
Presenting, The Architect's new form: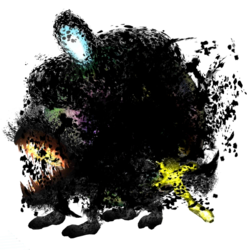 Anyways, since it's Christmas I'm going to not be posting on the RP for the rest of tonight, and a good first half of tomorrow.
Hey, I was wondering if everyone could do me a favor. Could you not wrote any posts after @TBT_Emerald before my next post? Thanks.
The final battle comes down to a mass yeet