the picture's pretty coolio, especially since I'm in it.
Long live those with candle head
I wonder who that handsome devil with the gold Kraahkan is? Probably someone who's most certainly not a loser
Very nice job! The line art is on point as always- My only gripe being that the coloring isn't shaded at all. You might consider looking into cell shading it; I think it'd work well with your style.
Slime, may I join your cult?
This is why I need a recognizable avatar…
Pretty cool, most are pretty recognizable if you know who they are.
Slime has a cult?
I've got to see this.
~W12~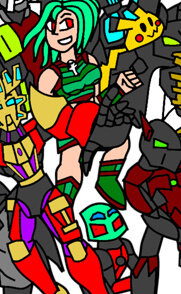 I think he's looking up at who I assume is CGL's skirt

…this guy looks strangely familiar
shhh… Let's keep this secret between you and me, ok?