Yep, for those who follow the posts I make in this section of the Boards, you'd know that I once made a topic called Lights O-Nope. Can't do it. Well, the reason for that is basically: I wanted to make my Toa Team and show them off in pairs. But since Nyran is my self MOC, I figured "Okay, I'll give Azard his own topic. and then give Jalis and Baronon one to share, and then I'd give Nerai and Solinari a topic to share.
Well, now I'm finally happy somewhat with both of them, so here goes the topic.
Here's Solinari(Soli for short) and while not much has changed, what has changed makes her look all the better, to me at least.
Just standing straight, although, I probably left the arms too far out, but whatever. I think the shoulder/upper arms are a bit messy, but I think they work out for her. She's certainly bulkier this go around. Mostly due to the keetorange Matoro/Mata Nui armor on the sides of her torso.
Here's a back view. I wanted to see what a Bohrok shield would look like when used as hair. I think it turned out well.
Without it, you can see the epic coincidence that is the technic liftarm. I had no idea that would work out, but it makes the torso amazing(Little-known fact, the last torso design was wobbly)
Only slightly taller than an inika build, but I'm okay with that.
Does lead to some…weirdness in scale, in some cases, though. But whatever, Nyran's just a tall dude. Reflective of me IRL.
And now for Nerai. Super happy with how she came out, even though she does use a technique that many frown upon. Honestly, though, with how solid the rest of her torso, as well as the legs(and to a degree the arms) work out, I think it's fine.
Hmm, prolly could've posed this better. This picture does kinda look not as good as I'd hoped.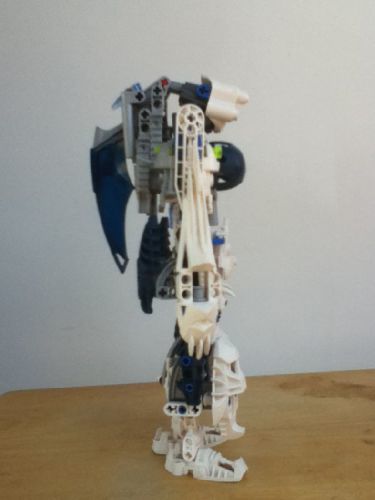 Yes, all those thornax pieces, as well as the Vamprah wing are all part of the hair. I think it's ridiculous in an epic way.
And from the back. She looks okay from this view. I wanna replace the silver inika leg armor on the shoulder/upper arms with white ones. I just need to get some more.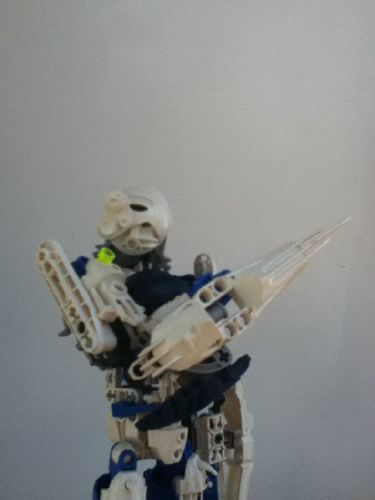 Yes, the Pridak feet on her arms are supposed to be weapons. I think they make great spike/blade weapons style things. So yeah, I think it works out.
And vs. the Inika Build. I think she's of an okay height. Taller than Soli for sure. In closing, I wanna say that I think the Dark Blue needs to go away entirely, and I'll work on adding in much more of the mata blue. Because Lightning Toa are supposed to have more blue than white, IIRC.
Also, the Akaku was chosen for a specific reason: The way the top of the eye lid is angled, combined with the lack of lght piping on the lens eyes, made me think of that thing where like, a girl(or guy, I don't discriminate. 8D) will like, make their hair cover just the one eye, so uh, yeah.
And finally, a shot of the whole team. Alas, poor Baronon. Obstructed from view by his own armor. Nerai, BTW, is leader of the team, hence why she's in front.