So, two more RoT MOCs, before I actually get the story out. It'll be a while.
I bring Jalis, Toa of Fire, and Baronon, Toa of Water. To preface this, Baronon is indeed male. the details of why that is are listed briefly in the RoT Coming Soon topic, and will soon be more detailed in his Precursor backstory.
But for now, the MOCs themselves.
Here's Baronon. Before you say anything, yes, I know, the Mask doesn't entirely match his colors. It was the closest thing I had, and I thought it looked cool enough. It's darker in person, reallty.
I think this one came out well, for how simple he is. Kinda short and stocky. I wanna change the shoulders, though. That's kinda meh, IMO.
I love using that Hordika back piece. Also Nokama's head makes it a fine arc to his back. It adds to the stock.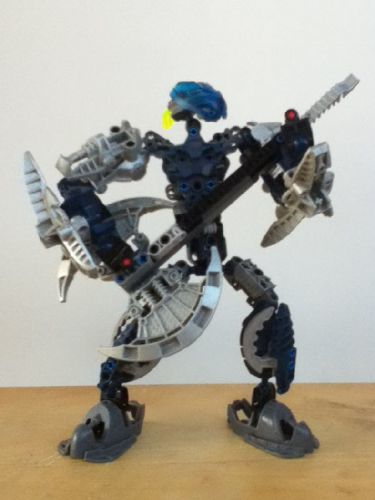 Also, yes. He can indeed use his Axe as an Axe. He can rock out. Not in-story, though. Just fun to pose in MOC form.
And here he is with the Inika build.
Here's Jalis. He's I think the more complex and custom of these two MOCs, though he uses standard Inika legs.
Frontal view. I will admit, his colors are a bit everywhere, but I think he's good enough.
And his sword can store on the back.
But here it is without the sword.
Much like my Knightpriest MOC, the waist can rotate, and get an awesome ab crunch.
His sword is usually two swords. The yellow one is the only one of the two that can channel elemental energy. It shoots fire from between the two blades. That is the Burning Sword. The silver one is simply just good as a blade, and made of protosteel. It is the Grandsword. It's good for fighting off multiple enemies, having two swords.
But they can combine to form the Burning Grandsword. It is basically just the Sword from Toa Mata Nui, but I felt like it worked for Jalis as a character.
And compared to an Inika build. Fun fact: Jalis is named after the tribe from the Deltora Quest series. They were painted in the books as great and proud warriors, so I felt it fit him well.
So yeah, sorry for meh picture quality, so please do share your thoughts, criticism or compliments. It gratifies me greatly to see them.