Well, I hated how my last female MOC went down, so I decided I needed to actually use CCBS for the better and create some female MOCs. Tally ho…
Sorry for the blurry images BTW.
Well, here's Flagra. I decided to make her look more like a Toa. I would have added a flag but I had no construction paper or anything to do that.
I gave her the Kaukau Nuva back. I also gave her a new staff and decided to give her a light-up eyepiece since Kylerak wasn't using it for anything.
I wanted to use silver hands but I kept those for the next female MOC. I also gave her Skull Spider armor at the hips.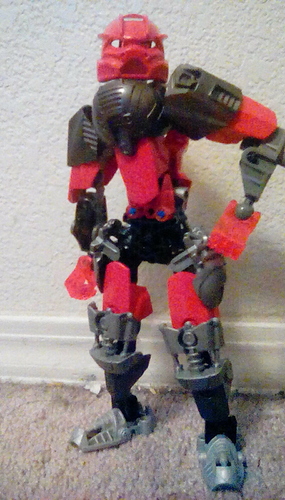 I really tried to show off that she can bend her waist a bit, because I wanted her to be more flexible than Cronk.

Gravity wouldn't allow me to do this pose so I had to hold it up with my hand. She's pretty flexible, except for the arms, which are a bit stiff. The legs and waist are great though.

Ditto my last comment.

The flexibility only allows it to go a little bit forward but quite a bit to the side.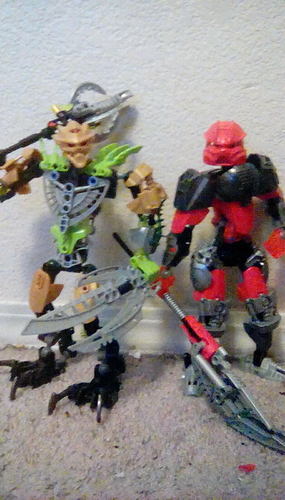 A size comparison up with Cronk. Since they're partners in crime I felt this would also be a nice group shot. Thankfully they're about the same height.

Onto the Vortixx. She was made with leftover pieces, plus I wanted to make a Vortixx again. I couldn't find a black thin beam so unfortunately her mouth is left open like that.

This one shows a bit of the flexibility of the torso going forward.
The back is nothing to write home about, really. Not happy with the thighs either but I didn't have a lot of piece to work with. I like everything else tho.

Obligatory "draw me like one of your french girls" meme goes here.
Which do you guys prefer? What should I fix! Lemme know, guys!