I stared to make reviews, this is my first one, so if it's not going to be very good, but I will improve as time goes on.
So, I decided to Review 8698 Vultraz. This set was released in 2008, and during time of release costed around 20$.
First off, let's take a look at Vultraz himself, from which the whole set is named.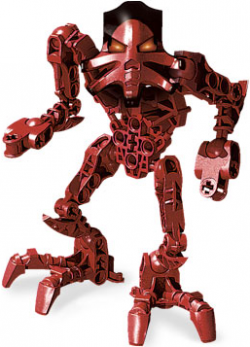 Vultraz himself is just a basic Av-Matoran Build, and there is nothing really special about him, except for maybe his mask, the Mask of Scavengeing, which looks pretty cool in my opinion, and is nice to get it.
The Ship Itself is a good looking set, with a consistent color scheme (if you don't count the blue pins and red axles, which is probably one of the main cons). Assuming that you won't play with it, looks pretty nice on display.
As far as functions go, we have two:
We have this Zamor storage compartment, which works incredibly well in my opinion with those pieces. You can fit 4 of them in, and the other 4 included in the set are supposed to be loaded in the Sky Blaster.
Speaking of which, we have the second function, which is the Minax Sky Blaster. It can be loaded to up to 4 Zamors inside, and is fired by turning the little lever. It works really well, one of the best Bionicle blasters in my opinion.
When you attach Vultraz, your display will look something like this.
To attach him, you attach his hands to this steering-type thing, which is not as simple to attach as on other Bionicle vehicles.
And now is time for the Final Verdict.
Overall, I like this set. This is the cheapest vehicle from the 2008 wave, and is more easy to get then the other ones. It is small, that is true, but is worth the money.
The only thing I don't like about it is the blue pins and red axles, which ruin the color scheme. You get some nice pieces such as those wings which are very useful for MOCs.
If you are low on money but you want a Bionicle Ship a lot, this is probably the way to go for you. I have seen some people hate this set because is so small compared to the other ships, but IMO is not a bad set by any means.
I ordered some 2009 sets, and I didn't expect this one to be included as well, and I was very happy that I got it along with other sets.
For my final score, I will give it a 7/10.
Thanks for reading, I hope you found this post useful. If you want me to do more reviews like this, support me with a

!