Hello again, this time I drew a character from my reimagining of G2, Bionicle: The Island of Masks, and actually added a background! Yay, artistic progression!
Anyways, here's the backstory of Era:
In Okoto, there is a group of the Okotan population who, through years of practice and meditation, are able to tap into the island's natural energy and control it. They are adepts, and although they are less powerful than the Protectors, who were born with the power to control their element, adepts are formidable warriors who are able to use their abilities both practically and in combat.
Era is an adept who grew up in the capital of the jungle region, Lehuatlan. He spent his time wandering the city and occasionally made wooden statuettes when he met his soon-to-be best friends. With them, he travelled around the region of Rinoa practicing archery and assisting in hunting trips with his friends.
One day, he comes across the forces of the Kunoma, a group of skeletal arachnoids including the Kovo (Skull Spiders) and Kopinoma (Skull Scorpios). When Vizuna saves him from being enslaved, Era gets involved in more important matters, such as helping his friends cope with abandoning their villages, uncovering the secret of Rinoa's first Protector, Maverda, and helping the Protectors fight the Kunoma and their lord, Atlarak.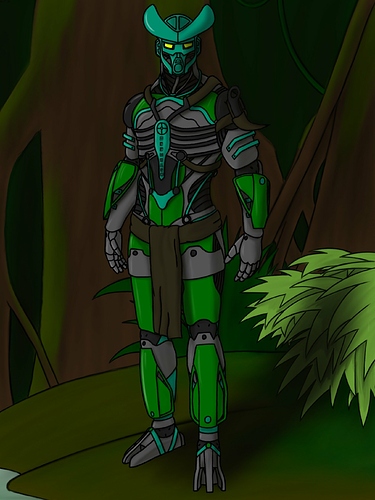 In this drawing, I wanted to see what Era would look like. I decided to base both his torso and his armor off the unity piece, his armor having the "Mark of Accuracy" which grants the wearer better aim and, according to some accounts from previous wearers, seems to slow time slightly while aiming. The Mark of Accuracy was basically a nod to MNOG II's Charms and the belief system of Mata Nui. The writing under the mark also says "Accuracy". The CCBS shells resemble the lower limb design the Toa Nuva had, and his arms loosely resemble a Tohunga's arms (I know its Matoran, but I like saying Tohunga). I feel that this Okotan design might be my favorite interpretation, since I tried to mix set accuracy, my own style, and aspects from both generations.
Now for the fun part: the mask. I loved how different matoran in both MNOGs had different masks and thought, "Why can't the Okotans have something like that as well?" With Era, I mixed the Protector mask with both generations of the Miru, making him look like a G2 Kongu. I thought it turned out alright, having that titular smiley design on a protector-like mask.
Hope you guys like it!