I'm finally back with the newest installment of Hautaka's MOCs!
Behold 2 new MOCs and 1 new revamp!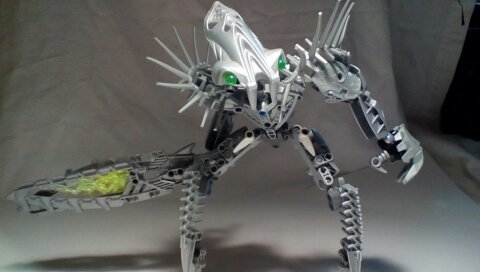 In the time before time, six Toa were investigating the League Of Six Kingdoms, until the land known as The Pit flooded, spilling horrid mutagen everywhere. The League all mutated, and their leaders were forever known as the Barraki. 5 of the Toa team perished during the incident, but only one survived. He is only known as The Lost Toa, wandering the infinite abyss for which he is trapped.
Those were the best looking of the photos I took, so now, moving on to…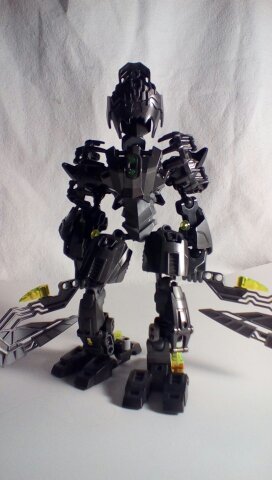 Vanguard
is the name given to an old Stro-Matoran who wanders the island of Kindra Nui in some sort of mechsuit. (Stro-Matoran are Matoran of the element of
Structure
, which I invented. They are kind of like a mix between Onu-Matoran and Po-Matoran. I also invented Kindra-Nui)
Vanguard
was introduced in the first Hautaka's MOCs, but I thought it was about time to show him in better lighting.
Finally, we have a revamp of…
This hand design was made by someone here on TTV. It connects the fingers and the 1x2 plate with hinge thingies to the hand connector via Exoforce hand. If you recognize it, or if it belongs to you,
please
tell me because I want to credit the design.
This staff is a slightly modified version of Makuta's Kolhii staff made by Ignohkii on YouTube. I thought it was fitting for Ahkmou here because of two reasons.
In my story, Ahkmou is a leader of a cult who worships Makuta, and he is obsessed with collecting relics of the now extinct Makuta.
It's a Kolhii staff, and in the original Bionicle storyline, Ahkmou traded infected Kolhii balls in Po-Koro.
This is the original video from which I got this design from:
https://www.youtube.com/watch?v=3E0WOZH2jyg
That's all for now folks!