The chest and rubber bands throw me off. Otherwise, cool MOC!
The MOC looks alright I guess, the chests colours do look a bit off but its not that bad. As for the elastic band, I don't think it looks that bad.
#QUESTION
Is he gen 1 or gen 2?
Apart from the elastic bands, this is really great!
Looks Japanese, I like it…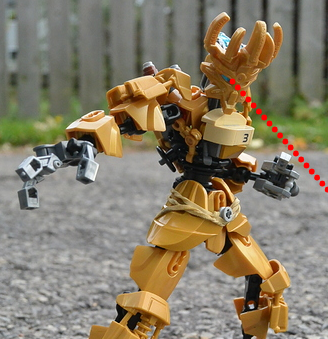 Posing with ghosty: make sure your moc looks at the floor /s
he looks cool

I love his hip armor even though it requires rubber bands.
his torso looks awsome (apart from the tan chest)
@Lord_Tuma_of_Skulls
@Oniwah
@Hafynx
@EvilLobsterKing
@Darknova3529
Thanks!
Both.
[quote="EvilLobsterKing, post:26, topic:14372"]
Looks Japanese
[/quote]YES
This means i achieved what i was going for.
[quote="Darknova3529, post:28, topic:14372"]
Posing with ghosty: make sure your moc looks at the floor
[/quote]But that's how japanese mechas are always posed…
Gen 1 element breaks canon. Gen 2 element is good to go! The tan in his chest is also a bit odd.
Overall, he's pretty good. 7/10 for gen 1, 7.5/10 for gen 2.
The Good News: Nice MOC
The Bad News: TOO many rubber-bands
The Other News: Obviously obvious number 3 is quite obviously obvious. (Does this sentence need some more obviously obvious obviousness?)
Does not click with me.
Decent design.
I just don't like it.
So if a bunch of Japanese mechas jumped off a cliff, you'd throw your MOCs off too?
THROW MY MOCS OFF A CLIFF
YOU CRAZY