So this is for a project that me, @MaxinePrimal , and a few others are working on.
His name is Irdume, Toa of Plasma.
And he's a midget.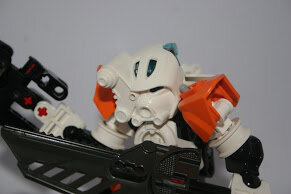 Sorry about the scrambled pics, I was kinda just taking them randomly.
And boy, has it been a while! I haven't worked on a Bionicle/CCBS moc for quite some time… To be honest it was kinda refreshing.
Anyways.
Irdume utilizes a big drill and an anime-esque big-aft sword.


He also has three arms.
I thought he needed to compensate for his size in some way, so I snuck that in there. Anyways, hope you all enjoyed this. Have a great day!