Well, I'm back with yet more Keyforge customs!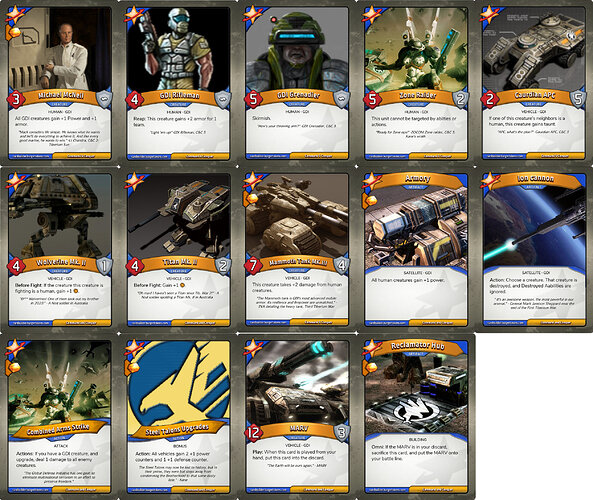 I present to you, members of the boards, a group of cards, based on those heavy hitters of the Command and Conquer universe, those fighters trying to reclaim the world from Tiberium, the Global Defense Initiative!
The theme of these cards, is overwhelming firepower. They try to keep the enemy down, and once the enemy is down, reap to gain Aember. Then, in the case of a situation where the enemy has a strong front line built up, the Massive Armored Reclamation Vehicle, or MARV, can be deployed to "Reclaim" the front lines!
Credit to CnC wiki for the images and quotes.
Thanks for looking! crits and comments are always appreciated, and requests are welcome!
If you want to know more about keyforge, and if it's the kind of game for you, take a look at this trio of videos.
Also, if for any reason you want a copy of an indvidual card, I'll be happy to give it to you.
On a side note, does anyone know how to make a tag? I wanna make a "card" tag.