This was my first MOC for the Battle of the Golden Mask contest (which Venivvy and Sparntutors were latter based on).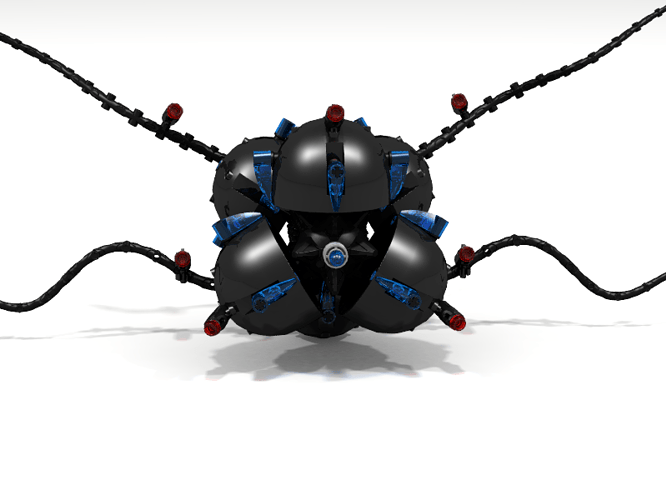 "Those who forget the past are doomed to repeat it . . . Unless there is no past."–Khronstor
Khronstor's origin is unknown to the islanders of Okoto and even unknown to Khronstor himself. He just appeared one day in the fire region of Okoto and was found by one of the Fire Protectors. The two quickly became friends and Khronstor soon began to wander on the island, looking for answers in the past. Though his wanderings came to an end and became friends with the Mask Maker called Makuta. He quickly became the Mask Makers' chronicler and was quite happy with his job. Though his happiness was not to last. Khronstor followed Makuta and witnessed him put on the Mask of Ultimate Power. When Ekimu knocked the mask off of Makuta's face, the shock wave gave Khronstor a concussion. This concussion, along with seeing the horrible destruction to the island, caused Khronstor to go on a mad mission. He started to destroy anything and everything that had to do with the Era of the Mask Makers. Specifically destroying ruins and anything else that could serve as a reminder of what happened. But he quickly remembered the masks of power and set out to find and destroy them. Both the Skull Spiders and the Toa are in his way, but that won't stop him. And soon, he'll find the Temple of Time and with the temple's destruction, all of time shall be erased.
Khronstor is a biomechanical being that normally floats/hovers/levitates five to six feet above the ground. How far he can fly is unknown. He has seven, single elemental lava(rhyolite) blasters and four powerful vines that can crush Skull Spiders into a fine powder with ease. Khronstor is a very skilled fighter and the Skull Spiders worse nightmare. With no mask and no mercy, the Skull Spiders stand no chance against him. Even the Lord of the Skull Spiders wouldn't dare challenge Khronstor unless it's something very valuable. The Toa will soon find that he's no easy threat.
…Well, at least story wise Khronstor isn't quite as dated as Venivvy. Here's the link for his LDD file:
http://www.us.lego.com/en-us/gallery/5dbf126b-4aa1-4b1f-acd2-701d8b3a408f?index=19&memberid=ajtazt&categoryId=64929898-c52f-49d8-b106-c0c36314093c&sortfield=mostlikes&from=0