Very interesting. While I'm not entirely a fan of this series of MOCs you've done, they are all interesting. The mask on this one is by far the most creepy in my opinion, and seems like it would certainly come from a horror game or movie.
What a chiselled jawline…
Is it just me or do these continuously get creeper?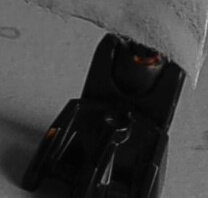 I like the little details like the bits of blood on his foot
The cloth looks a little out of place on this particular MOC, but he looks great otherwise.
I don't quite understand the loin cloths you've been doing, but fine.
The face is especially good.
These just get creepier and creepier.
I really like how with each of these MOCs; though they don't have much colour, are very much unique and interesting from one another, and this is no exception.
For some reason though, he's reminding me a bit of a chef.
Also that chin 10/10.