Hello everyone,
this is my first post of the sort, wanted to give it a try after all

(sorry for joint pictures, can't post more than 3 currently). Recently I've taken interest in creating MOCs for characters that never had a set released, and naturally, Lariska is one of the first to come to mind. Surely this is anything but a new idea, but I'm hoping that this particular rendition of her will be interesting to some. So let's get started with some pictures: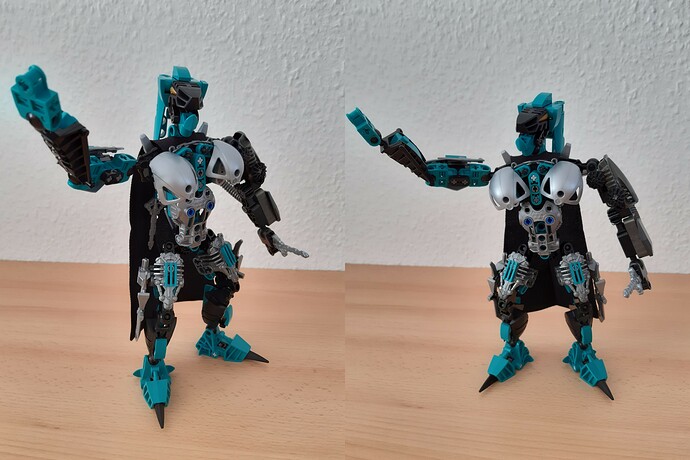 As you can see, starting with the info that she's easily confused for a Vortixx, the model takes a fair share of inspiration from Roodaka. It also attempts to fulfill all required aspects known of Lariska without getting too clustered up; in fact it tries to be as close as possible to a set one might actually see released by Lego.
Certainly the biggest challenge is her color scheme making use of dark teal. I decided to keep the Vortixx head base and as such, the color combination came out as black and dark teal, with as much of the latter inserted as possible. And then we have the cape, of course, because capes are awesome and this one fits so incredibly well

Here's some details:
Just like the protosteel daggers, the throwing knives are held by clips and as such are easily detachable when needed. The front part, here shown without armor pieces, not only allows for well, female characteristics (debatable perhaps, but included mainly based on the similarity to a Vortixx, plus easy identification), it also serves to attach the cape. Note that this is actually not an illegal building technique, the pieces really just fit in so well.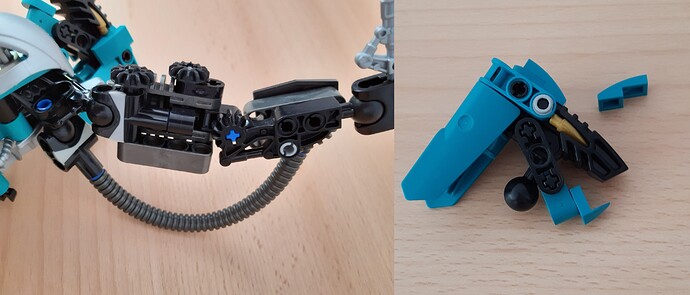 The general head design is rather simple, but luckily, with some relatively new pieces, making a simple hairstyle (and I love doing those

) in a dark teal color became possible.
So there you have it! Hope you enjoy, and for any questions, feel free to ask.
Have fun!