Well, this is gonna be a serial I'm starting over the summer and expect to end in the summer. It was created off the premise I had for an original pirate story and a "pirates vs. dinosaurs" premise. So here we go. Welcome to…
#Chapter 1 ~ The Verdict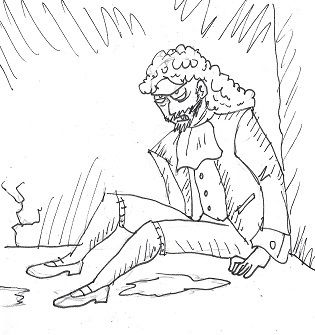 The Final Words of Norman Squallin
June 12th, 1689
I'm writing this from my jail cell. I fear this is thy final day here on this fine earth. If there is one thing I'd like to say, it's that I repenteth from the evil I have done. I hath stolen and killed in the name of thy Excellency. For what? Nothing. None of this gold and plunder was stolen legally. At least, that's what they told me as I docked up.
Y'see, when I started years 'go as a sailor, I became good at thy trade. If only thou hadst known what it would get me into. Too good I became as a sailor that thy Excellency had asked me to become a royal privateer. A treasured position during a time of war, of course.
So to spite thee King of Spain, I robb'd his precious Spanish Galleons and took all of his plunder. The gold belonged to the king, of course. Little did I knowest that I'd come back to the land of England to discov'r that I was a criminal.
"The king hath back-stabbed thee!" I proclaimed. But none of thy subjects and knights would listen. They captured me and stuck me into a jail cell. O king? Why doest thou stab me behind thy back? Have you lost any sense of morality? You betrayed thy own country for striking a deal behind the curtain with the wretch'd King of Spain.
You may call thee a traitor, your Excellency, but I will only take thy word and spin it back at you. You betrayed the good name of England. May Elizabeth's good ghost hang thee one day. Even when you pretend to be at war with thy "enemy" you still make him thy friend. How crook'd you are.
That is thy word. Complete and full. If these shall be thy final words, so be it. Just let it known to all of England that I didn't die without a patriot's heart.
~Norman Squallin