Funny, I have a KO Turaga Vakama, and the one part they changed out was the mask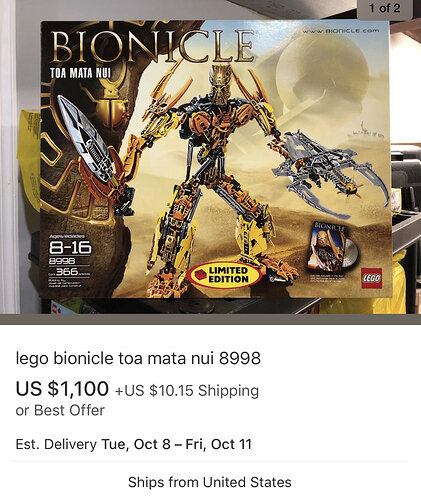 And here we have the worst BIONICLE set up for sale for $1,100. Not even offering free shipping.
Also, have you ever wanted Solek but with black pieces instead of white ones? They eBay is the place for you!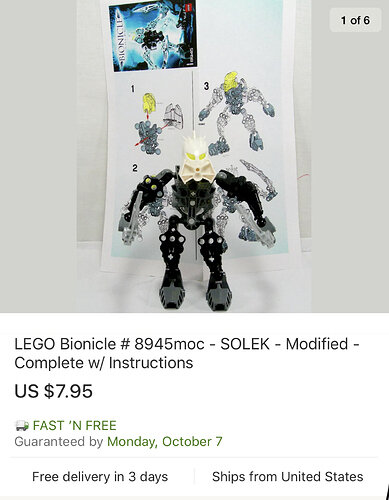 This is Solek's evil twin, shadow Solek.
Solek got a sun-tan, which doesn't even make sense since he's a Matoran of light…
I must say: That is a pretty well done MOC. But surely not worth 70$…
Why does it have a 5 star product rating? It's not even an official product!
"A PERFECT GIFT FOR LOVERS OF THE STRANGE WORLD OF BIONICLES AND HUMANS. OR SIMPLY FOR AN ORNAMENT IN YOUR HOME"
"The Lego Bionicle Warriors is a game about WARRIOR, living in a world dominated by humans and machines. is one of the guardians"
I don't know what the seller thinks Bionicle is, but that is a really weird description.
Ah, yes, Toa Hordika Vacamalum
It always makes me angry when someone sells a Toa Mata Nui without the Ignika.
I remember seeing an ebay listing of one of the versions of nokama where the image was just some random bird, but I can't find the screenshot.
EDIT: i found it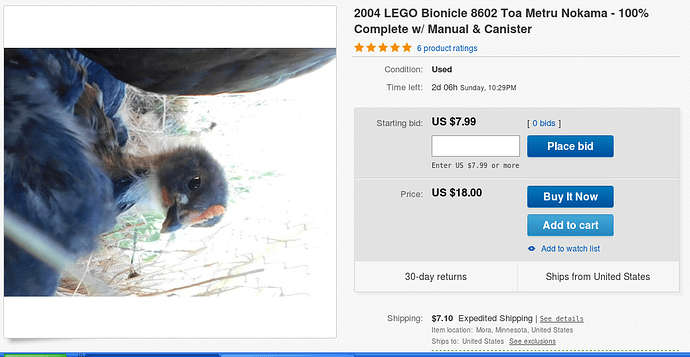 It's a little known fact that this was the original 2003 storyline, but was deemed too extreme.
Though then again he's also a Titan Killer Hunter Predator so he could also be assassinating Titan Killer Hunters,