Alright, first off, I know this has already been done to death, I've seen some amazing revamps, remakes, and overall upgrades to the Toa of 2015 in general, let alone Pohatu… Well, still primarily Pohatu, but still. Either way, here it is.
I'm obviously late to the party since there's already revamps of the 2016 sets, though I just recently began collecting the Toa and Protectors of 2015, and when I got Pohatu in the mail, he… just didn't feel right after building him, the boomerangs were cool, but it just… Really didn't feel like Pohatu, he didn't bring anything new to the table like the brown Toa of old so that was disappointing. After some rummaging in my totes and boxes and such to find some good parts to use and some inspiration, I decided to make some changes to him.
It actually tool a bit longer than I thought since I tried turning his torso upside down which looked off to me, and tried manipulating his armor around it only making it awkward, especially the ball joint sticking out of his crotch. Until after roughly 30 minutes with no progress I just started messing around with him and slipped his gear box on the bottom of his Torso with the legs on it, and suddenly it all started to come together from there, even using some pieces from the 2016 sets on his legs and such until it just felt and looked right. (Although I'm not entirely happy with the back of the legs and the back, but overall the idea is there)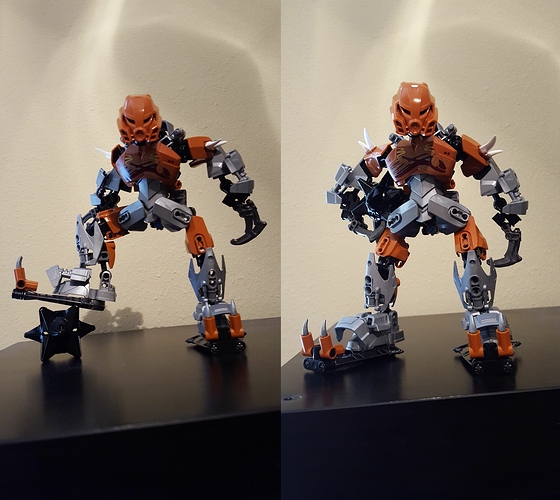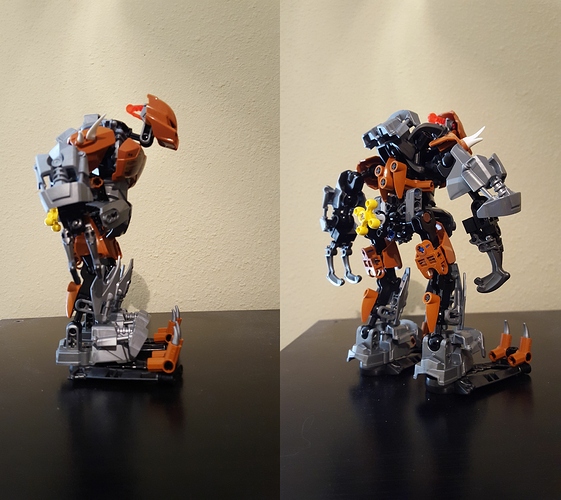 This doesn't really qualify as a MOC, I just wanted to make some changes to Pohatu, and felt they were alright enough to show just for the heck of it. I wanted to put his boomerangs further back onto his feet, though that didn't quite seem possible without using completely different feet, so I just worked with what I had. I also wanted his fingers spread apart a bit more, though every method I tried looked a bit off so I just did a more simple approach with his hands. Needless to say, I am much happier having this Pohatu stand next to the other Toa and having his own differing body shape. I even made his eyes orange like his Mata variant which looks much better with him than the trans light green did.
I did have a few minor changes I almost kept with different armor placement on his arms, and a bit more trans orange on his boomerangs, though I initially went with the final result above, however for comparison's sake I'll put it down here as well.
Overall, even though this isn't entirely a revamp or a MOC and while I'm a bit late to the party, I felt like showing the changes I made to him since I personally feel they look good with him.