Beautiful. Grabage disposal shall never keep me from my true love <2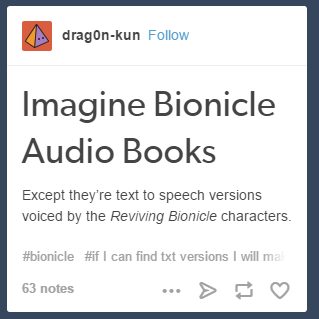 ho boy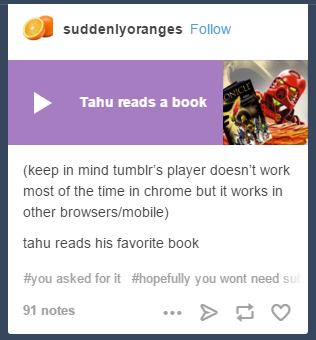 I wouldn't mind this as a series.
"Wait, are you crying"
"No"
"I see tears, oh my god"
this is great
"Who's… Good Guy?"
"Good Guy I know it's you. You can stop the voice."
"I know not of this good guy you speak of, but he sounds like a really awesome dude with lots of friends, like seriously."
"Oh my god it is him."
Not even sure if Orange meant for this series to become as well liked as it is or if he started out just making a meme video. Either way, it's a really good series.
"This world cannot escape sin." -Tahu 2014/15
Good guy is such a misguided character
I'm trying to emulate Kopaka's personality for my main character in my serial right now, he's so much fun to write.
HAIL DENMARK HAIL HYDRA HAIL PERDITUS
I have watched these vids many times
This show was the best. I loved it. It was hilarious, clever, and while "intentionally bad- also unintentionally good"(-my older brother). My brother, who never really like Bionicle and thinks my apreciation of it now is weird, laughed watching it and likes it.
Also, the movie in episode one must have worked.
Hail Denmark.
"Beautiful! May you recieve all the Oscars!"
"He cried during Paul Blart"
Episode 4's "uncultured walnut" line got a big laugh outta me for whatever reason. I'm totally gonna use that as an insult now.
I also wouldn't mind an "I'm a freakin' Diglett." ■■■■■.
I would love a ■■■■■ of predates with the throats bouncing towards him with "I should have thought this through".
I love that part…
I have for months. Ever since that episode came out.
Hail denmark Political_senpai
Gotta love the Undertale reference

Edited for Double Post - Slime
please don't double post k tnx
Well someone's a Civil War fanboy.