So as of Nov. 2nd 3:24 Eastern time, I've obtained 601 Pokémon and seen 643 out of the currently 718 available.
My goal is to one day catch one of every single Pokémon and have them all organized in boxes
An example of this being:

I feel I should also give a bit of backstory to my history with Pokémon, as Pokémon gold version was the
3rd
game I ever owned and has been a huge part of my life. Gold Version being basically the only game I played in my youth, it was extremely annoying that I couldn't catch
every single one
due to the fact that you had to trade with other people to get them. Pokémon being deemed "uncool" at my school, catching them all was impossible for me.
Now
, however, through the power of the internet it IS possible. Possible for me to Catch 'Em All.
So I call out to you, my new found friends, to help me obtain those pesky event Pokémon.
Currently the only event Pokémon I am looking for are:
Mew
,
Arceus
and
Manaphy.
So if there is anyone who does have these Pokémon who would be willing to help me out, I would be extremely grateful.
For now, I am going to work towards catching the remaining 115(117 if you count Arceus and Manaphy) Pokémon. When I do, something special will happen.
(I should also make a list of these 117 I don't have…)
I think I would also take this moment to show off my trainer card for bragging rights: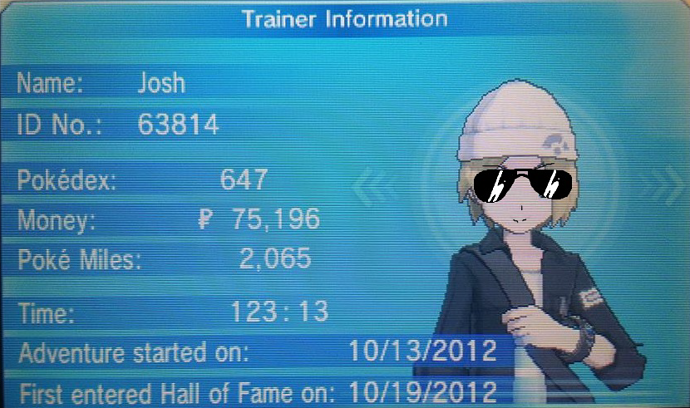 ALSO-
THIRTEEN
THE DATE THE ADVENTURE STARTED ON AND THE MINUTES