She's named Segara because, usually, I use Maori words for the names, but the Maori word for ocean was "Moana," and you know why I can't use that. So, here's a toa of ocean or something.

If you're wondering about the colors, they're meant to be like… the ocean. Darker the lower you go, but at the top you've got white surf and (if you don't have one of these in your oceans, I dunno what kind of ocean you've got) a floating head, of course.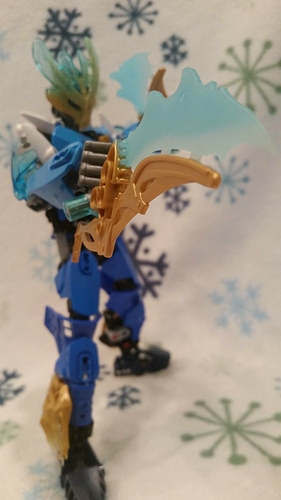 Her weapons are wave emitters
(get it, cause usually wave emitters are like radio waves, but here they're normal waves… heh… kill me)
With some gold handguards to block attacks. Usually though, she fights with the elements.
NO… they are NOT clone sets… one is blue, one is… ok they're clone sets. And no, I've never ever used that leg design in the past. Never. Not once.
On a more serious note, her wave emitters can be combined to be a shield or something, and then she can steal a weapon just like a girl would steal a hoodie
(seriously though, I've "lost" like 4 hoodies so far)
Obligatory edge
I dunno why I'm posting this at 2 in the morning, where no one will see it, but whatever. I don't really like it anyways.