As you can see, this is not a self MOC, but rather my concept art for my character in the Bionicle world.
I have a double-ended-sword-staff that can be slit into two swords. (which I sometimes wear on my back) I also have a shield that looks like my Faith Charm.
My shield can hover on my back and allows me to fly.
I got the hover disk idea from the show Wakfu.

Here's a fight scene to show how the hover disk works.
https://www.youtube.com/watch?v=HISOLeyDOuU
For my armor, I have breastplate that looks like a Tahtorak's head. I'm not sure what the rest of my armor looks like, but I like the style of Transformers: Beast wars.
And me without armor: (rough sketch)

---
Update 9/14/15: I added a mask. (Post 14)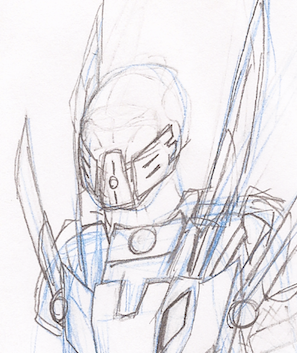 ---
Update 9/17/15 (post 16)
---
Update 9/18/15: (Post 18)