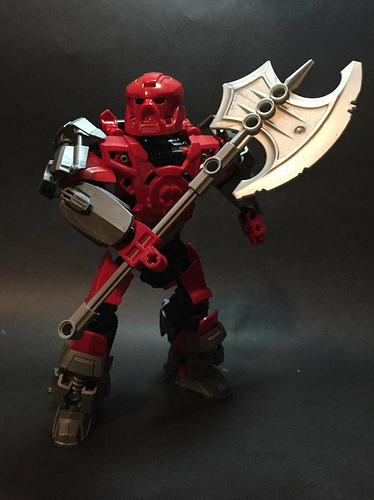 Name: Sterk
Species: Matoran/Toa
Weapons: Axe
Powers/abilities: Enchanced strength, endurance and physical toughness, can't access elemental powers.
Personality: Blunt, somewhat impulsive and self aware. Very down to earth.
Story: Tough as nails and relentless, this toa roams spherus magna taking on dark hunters all by himself, making them pay the ultimate price for what they have done to spherus magna and its inhabitants.
Quote: I do not crave violence, but this plague must be wiped from the face of spherus magna.
Link to gallery with more pictures
Imgur: http://imgur.com/a/0hHpd
Notes: So, I am finally satisfied with this MOC(which I also consider to be my self moc) and as much as I've wanted to just drop it I couldnt, the original idea for it was creating a body more fitting for the 2015 hau, and I have been set on doing so since I got 2015 tahu. Also his story would take place way in the distant future of spherus magna for those who are wondering.