Alright, so my old MOC Raustis was in dire need of improvement, and for a while now I've been trying to give him that well deserved upgrade, now some difficulties have arisen.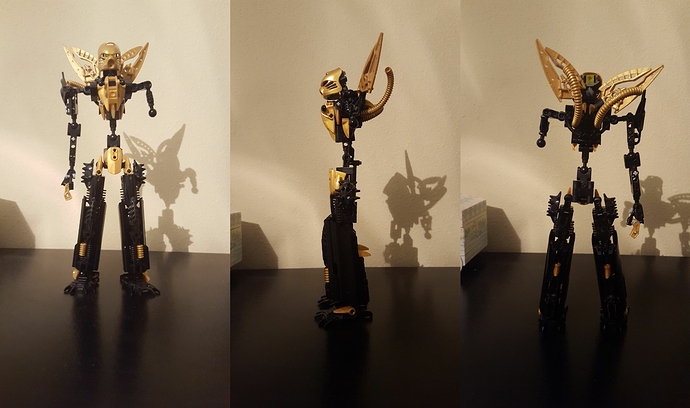 So at the moment I've rebuilt his legs to be entirely custom, no Inika legs as the base now, A custom hip build which is still a bit of a work in progress, and a custom torso build which I'm decently proud of. I sadly cannot fit the Brutaka mask on his back anymore otherwise it will look extremely out of place, though that is not the issue, the issue resides around some much different places.
Raustis is a MOC intended to be based more a male, and his previous form did show that, despite being really simple and unimpressive, however I feel like with this rebuild I might have made him look more feminine than like a male. This is actually kind of funny since back when I used the Inika build primarily, Raustis was a female moc named "Goldeye" ("original, I know" - He lied) so it's humorous to me how it seems to have gone from female, to male, right to a male that looks a bit feminine.
Then there's the arms, I have been experimenting for hours, days, and I cannot make an arm design that fits the body at all. He's supposed to be a strong looking mineral miner, and he has a thin waist, and all the arm designs I try to give him end up scrawny with no substance and the thick ones don't fit the torso at all.
I'm just very stuck and don't know where to go about this, He's been sitting on my shelf in this state for nearly a week and it's really making me bang my head on a wall here trying to figure out what I'm to do with him. Any tips or bits of advice are welcome here, because I don't think I will make much progress with him on my own right now.