A science prodigy, master of the Unknown and wielder of a giant white guts worthy blade used to dissolve molecules at an alarming rate, it's supernova.

He also wields the gungdnirr shield, literally cannot be broken even by diarus (even though the shocking force of the attack could break supernovas arm) his armour is temperature and landscape adaptive meaning he can fight in any environment.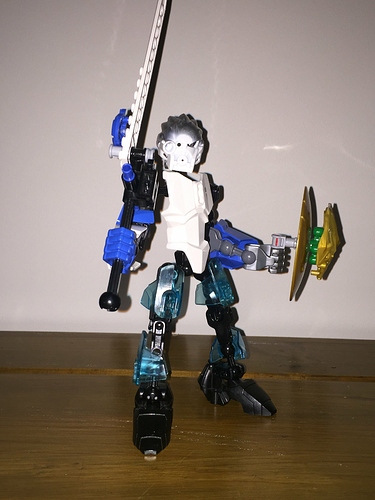 Besides that he's just your average Toa Mahri, as in as strong as a barraki at least, he's not super powerful around as strong as the zyglak or pit war tortoise at full power, also he doesn't really fight with strength based attacks, hes level headed and like Leonardo thinks up a strategy before the battle he begins making a strategy for victory, most of the time it works however he can at times make mistakes and underestimate his opponent, 40% of the time actually.