i knew that Nuparu was a master builder.
Looks like a mech from Warhammer 40k, kinda…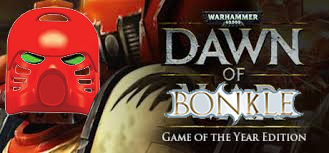 Well, that was Awesome, and The Bahrag might run with it's coming by.
There are no words.
No words.
Needs more skulls

Emmet you're out of a job

Woah! Somebody made a functioning bionicle mech!
Well, guess nothing's going to get cleansed today

Dang Boy that's massive and quite a bulk but awesome
I can see someone had a little fun trying to make a better construct-o-mech.
waaay too friggin' cool, mate.
This is really creative! I haven't seen many MOCs out there that use electronics.
You would not believe how tempting it was just to literately make this an upscaled Construct-o-mech
But, you fought the urge, and got this friggin' beauty.
This is overkill.
That does not make it any less awesome.
Its like a weird fusion between Emmet's mech and the Hulkbuster…
Amazing…
There's a problem with clashing textures, and it feels very cluttered. Although the claw holding the bohrok makes me think that it would easily get the job done. Great job!
I know how to describe this now.
This is a Wonder of the Moccing World.
This post was flagged by the community and is temporarily hidden.
This'll bust more than bohrok!
It looks like Nuparu knocked out Emmet from the Lego Movie, took his construction machine robot, and modified it to take revenge on a world, so cruel to him. Anyways, this moc is simply stated- Too Legit.
See the resemblance?