Absolutely brilliant project Sokoda! The amount of time and effort you put into this definitely shows.
So all that means is that if you want to use new molds, you just have to make sure this kicks off a wave of Bionicle sets! Easy peasy, right?

I had so much trouble with the account login process on LEGO Ideas. I struggled through it just to show this project my support! Good luck!
Thank you so much, I heard there are some problems with the login on ideas and I really appretiate that you took the time to support my project!
I also wanted to tell you that I really like your YouTube videos. As someone who mostly builds in system and digital, your videos really helped me get a better understanding of constraction MOC-ing, for a project I'm working on at the moment
Aww, thanks! I do really enjoy what I've seen of your system Bionicle sets. Full on LEGO set quality if I say so myself! I can't wait to see that project of yours!
@Connor_Hoffman you have a decent amount of subscribers on YouTube, maybe making a video about this project would help gain a few extra supporters.
Oh, I guess I never mentioned that I had meant "approve," as ProfSrlojohn had wondered.
I wish I could support, but you can't make a Lego Ideas account till you're 16. I'm 14.
Really? It's gone up. When I joined it was 13. huh. That was also back when it was cussoo.
Yep, tried to do it, and it said I was too young but that Lego Life existed and I could make an account for that! smh.
Weird, I'm a holdover from the old LEGO ID days, were you on the LMB's by any chance?
Yeah. "ajhigg." But I don't remember the password for that. Let me see if I can log back into that…
I've got like three profiles, and only remember the password for 1 of them.
As far as I know you need to be 16 to submit anything, and 13 to support
You need to be 16, period.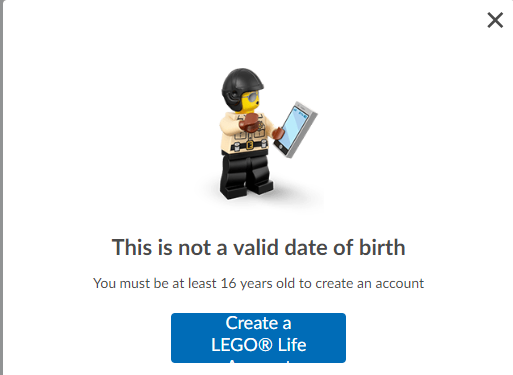 That's odd. I thought it was 13 or older, not 16…
Same, this is a huge let down.