For a quick sketch the execution of this is really well done!
I am reminded of Marvel's Epoch, for some reason.
It wasn't the quickest, but yes, I took less time on it than I have other drawings.

Is Epoch a villain? (I usually don't care to read or watch Marvel stuff.)
---
Edited for double-post. --John Smith
this remembers me of a transformer, I can't remember which, but looks cool,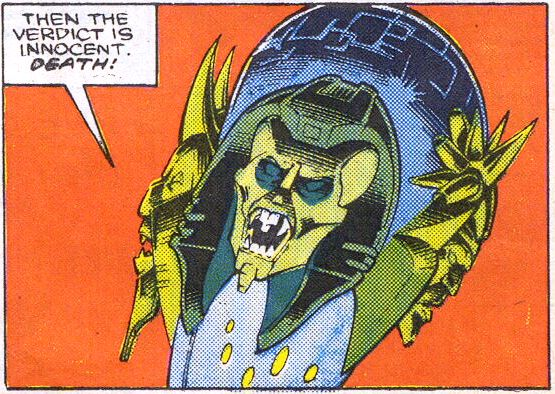 Transformers huh? Interesting.
First super hero/villain, second transformers. What's next?

Thank you, BTW!
Edit:I actually remember seeing that in an animated movie, before!
btw quintessons are like the 2nd scariest thing for me…I hated them since my cousin showed me g1
The fact you drew his mask 3 times without screwing up is amazing.
This is totally a Quintesson. Anyways, cool drawing, although the cloth looks sorta strange.
Cool quintisoun
I don't know how to spell it.
Not bad for something done pretty quickly.
Epoch is one of the ugliest cosmic entities there is. He helps out Quasar. But now, I really agree that[quote="Omega_Tahu, post:10, topic:22466"]
This is totally a Quintesson
[/quote]
Now I want to see Eljay as The Living Tribunal.
I like it, kinda makes me think of this being handed down to the next generation or something
Meso: Guilty or Innocent?
Kahi: Spare me this mockery of justice!
ElJay: Innocent.
trapdoor breaks under Kahi and he falls in a pit full of wild Prplcons.
This post was flagged by the community and is temporarily hidden.
It was cast out by the precursors for being impure. Props to anyone who got that reference.
Woah!I wasn't suspecting this many comments!


To everyone who said something about this begin a Quintesson:
@Omgega Tahu (I tried to give the cloth an interesting design, at least to me)
@Ninjanicktf
@Asriel
@Leoxandar what's The Living Tribunal?
@MakutaTexxidos


@Apophyx if you think he is guilty, then what is he guilty for?
#I didn't know I was making a Quintesson!
I think it's funny though!
@AMETHYSTDONTDOTHATstudios
I hope it's handed to the next generation of TEAM ELJAY !
@Zero
I don't get that reference.

Thank you all for looking/liking/replying!

Y u no Halo bruh! I guess that makes me king of the nerds now. I can feel the power!
Yes. Yes it does.


(I don't have an X Box)
This post was flagged by the community and is temporarily hidden.