######First! never got to be first in anything…

I will listen to this asap

But I have to go to school.

Forget breakfast. I'm watching this.
When @Venom said "He's mesonak" I was waiting for someone else to say that's bad

A very enjoyable episode, especially when there was nothing to talk about.
/s
On the topic of Pohatu skipping his stone with the golden mask, Kopaka also shot ice all over when they were fighting Umarak, and he was not united.
Um… I'ma watch it on utube.
Talk to you guys in a week XD
On the topic of the masks… I'm thinking that, perhaps, Ekimu knew about the golden versions of the Unity masks that were guarded by the creatures, but he also knew that, in order to find them, the Toa would need some way to connect with the creatures first. Lacking either the material or the time to supply the Toa with full-power unity masks on short order, he instead produced weaker, colored versions that at least allowed the Toa to find the creatures themselves, and then bond with them to get the full-blown legendary, golden unity masks. Once they got these better masks, the Toa just switched to wearing them, to cement their relationship with the creatures.
I don't know… just a theory I'm throwing out there. Feel free to poke holes in it

As for the show, I liked it, though as the cast pointed out there were some scenes where the Toa didn't blend all that well with their environment. Mostly, though, the show felt very rushed to me, consisting by and large of very quick scenes that had maybe one or two lines in them, with only a few important ones as the exception. Really, with six Toa all meeting and eventually bonding with their creatures, and then journeying through a maze to find the Mask of Control, there should have been plenty of material for more or significantly longer episodes that explored the characters a little deeper… however, the time and cost of all the extra animation and voice acting that would have gone along with that probably wasn't within the reach of the show, so for what it had to work with, I think it was pretty good.
You have shown yourself as a writer, but now we can get to know your theorist side! I love that explanation.
Did anyone else notice the podcast is longer than JtO?
$3 is a REALLY expensive pencil. Just sayin.
Was some one eating pudding during the episode? Through out the podcast, I just heard some weird scraping and tapping, and it sounded like a spoon scooping out pudding from its cup! I also heard someone smacking their lips. Did one of you get a life time supply of pudding, and decide to eat it then and there?
Edit: Sorry, I didn't mean to reply to you.
That was Ven and his bacon pudding.
Oh, and about that vine scene, it looks like something from MNOG. In a bad way.
Listened to this on YouTube, so I'm a little late, but…
You wanted it, you got it @Venom!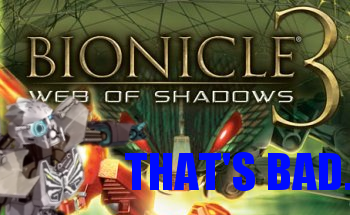 They aren't the best, but it's what I've got!
Hey, Bionicle 3 gave us plenty of cool fan art! Right?
And with this post, I hereby dub "That's Bad! -Kopaka" an official Meme. May it live forever and bring us great joy, and inevitably be beaten into unfunniness by being spammed over and over again, such as fate has ordained for all Memes.
By the power invested in me by The Trolls of 4Chan, Rick Astley and John Cena,
By the right of repetition,
By the will of the Internet,
"That's Bad! -Kopaka"
Is a Meme, and that's good.