Those proportion skills are off the charts
the civil war truly died in the last topic, with the memes
My Planet of the apes memes is 10/10 sice it has the looch seal of approval
At least I was able to make a burn.
We can still save this thing. @Looch_Cage we need more of your memes.
Never heard of that one before. JK
But I hated that film
I've already given you guys a preview of the mother of all memes I'm working on
KAHI WILL WIN!.
Surely you can't still believe in Eljay? <These things I'm saying burn me, but to fool them all it is worth it…>
@all Team Kahi members: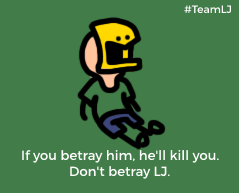 paid for by the team LJ foundation
Lob, are you in? You should ask for a badge then!

IKR? I legit don't know how to draw humans, being a self-taught so-called "artist" (labeled as trash much earlier), and it really took barely any time. Besides, it was mostly from memory.
Whatever. Any neutrals, immediately support Cap'n Eljay! You won't regret it!
These are the members of Team Eljay. If you would you are not on this list and/or want to join the winning side, don't hesitate!
@Mrfantasticpants
@Xeros610
@Zero
@Mistah_Grammaticul
@TheMoltenKing
@Fandral_The_Toa_of_Air
@Oniwonder_Woman
@LQ1998
@SwagMeister
@Celica_Jones
@8BitArt
@Looch_Cage
Members/Mods:
@CaptainJay
@Nakeye
@PrplWitch
@Winter_Smith
@FalconKnight
@Cronk-Man
Prpl Division:
@PrplWitch
@Matanui606
@Biodude15
@Groovesday
@Spiderus_Prime
@Asriel
@Wolveradiation-7901
@Mrfantasticpants
@TheRogueTimelord
@Groovesday
@777stairs
Where am I? Also I support prpl.
Nice job COMPLETELY IGNORING ME
@Wolveradiation-7901 I'm actually in the Prpl division too. But thanks for making a list.
–777starlord
You're missing a lot of members, @Wolveradiation-7901.
(Including me.)
Please apply me for team Eljay.