I love those smooth CCBS plates soo much
It should have bigger antlers and chains dangling on/around its body to make it look more hellish
Nice use of the shadow trap for the mouth
#Roar
This is cool with a capital C, O, O, and L.
I bet the mount is a she.
wow this is so cool

Well, this is really well done! The legs are too long for it to be comparable to Goht anyhow, but I see the inspiration. It's a good MOC, the colors really work (though maybe not with Umarak, but definitely with itself). I don't understand why everyone's complaining about the feet, it makes it look more like it has hooves than if there was just one of those tiny pieces at the end of each leg. Nice design, relatively smooth build, an overall well made piece.
However, there are a couple issues. Firstly, holy mother of blue pins, that's a lot of… well, you get the idea. They're really blatant, and I can't blame you too much because black pins are rare, but they really, REALLY stick out. Part of that is just the fact that it has a CCBS armor system for the legs, which lacks the ability to cover up many of those spots effectively. Oh, yeah, that's the other thing, the legs could use some cover-up. I love the design, but the clashing of colors between those light gray Technic beams and the dark gray CCBS shells is really odd, as well as the incredibly out of place solid purple shells on the front legs (since all of the other purple on this MOC sans the back spikes is translucent). It kinda sticks out, and not necessarily in a good way. The build for the body is smooth, but kinda… odd, perhaps it's the texture of the chestplates, but there's something about it that rubs me wrong. The head design, while very innovative, has the same issues as the legs. The blue pins are noticeable, and the lower jaw looks oddly unfinished due to that.
Man, that's a lot of griping. Don't get me wrong, I really like the MOC, but there are some things that could use a touch. I can't wait to see a V2 or more MOCs from you!
The MOC is great, but the photography is amazing. How did you get it that clear? It looks professional.
I really like this.
As for the feet, it doesn't bother me. Seems like a weird type of Okotan beast that has different feet from most. Reminds me of deep hooves, to be honest.
The feet look a bit awquard, what with them each being two feet. I get that you were trying to emulate cleft goat hooves (at leased that's what I assume), but you should've at leased connected them in the back. The rest of the MOC looks solid, though, and that head is great!
Not going to lie, I read the title of this topic as "Goth Quake Beast" at first.
This is a pretty incredible MOC. The only suggestion that I could think of is to fill in some of the gaps in the lower legs and head a little more, and to swap out the blue pins for black ones, if you own them.
I got to say this looks really awesome looking!
Though the feet look weird.
Awesome! And now that I've returned from lurking, time for a Quick Review!
Pros:
Consistent colour scheme
Gear function perfectly implemented
Smooth and consistent aesthetic
Creative use of CCBS
Those feet (I like them. They really scream 'Cloven Hoof' to me)
Cons:
Random flat purple
Gappy head
BLUE PINS!
Colour scheme doesn't mesh with Umarak's Red (Although the green works with the purple)
Overall: 9/10
Give that man a Golden Mask!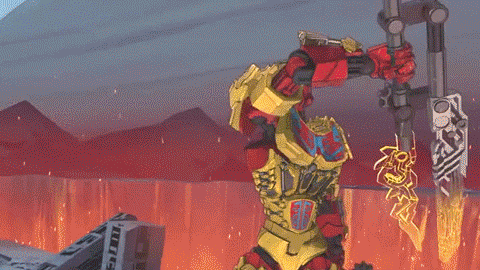 I can see where the complaints about the feet are coming from but over all I really like this MOC. Ven should put this in the MOC spotlight. My only advice is maybe change the flat purple. It doesn't really flow with the colors. 9/10

This is amazing. I think it is cool how you accomplished this using similar techniques that Umarak uses.
This guy looks amazing! He's nicely armored and looks menacing.
really good but with all big mocs it looks too busy from a building standpoint