So it's been about two and a half years since I last posted anything on here haha. Last time we saw each other I was in my last months of high school, now I'm sitting through college in my parents' house because of a certain world event (THE GANG ON THE LOOSE; NOTHIN' YOU CAN DO) and I'm not loving it. However, this past year has given me the opportunity to get back into MOCing, and so I have! Instead of separate posts I'm just gonna dump all of them here in no particular order.
For those of you who haven't been here that long, I challenged myself those years ago to create non-rahkshi MOCs for all 10 of the existing rahkshi head colors. I've only got 8 currently, but I have plans for the last 2 (I just need to figure out how to execute said plans). I've also come up with full backstories/worldbuilding and stuff for the whole gang (without even meaning to, but that happens when you design a whole bunch of characters) but I'm not gonna type all that up right now. I'd be happy to talk about 'em though if people are curious.
I've got recent pictures for 3 right now and I'll update with the others soon. Theres some year-old pics on my Deviantart and Imgur pages though if you wanna see that, but some are outdated.
Here's the first batch:
THE GENERAL
Wanted to make a smaller one, but this is supposed to be challenge, so I gave him a pet :3 .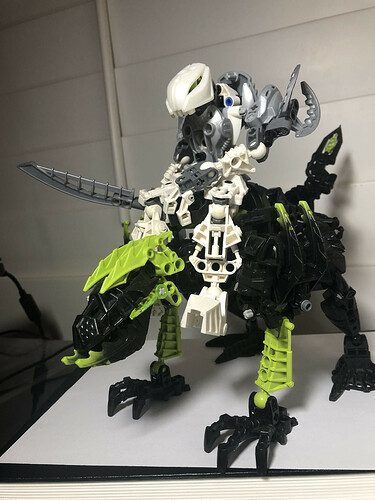 Bionicle MOC: The General (2021)
THE SAMURAI
What it says on the label. I liked that Ninjago blade piece so much I made a whole MOC for it. I also really enjoyed figuring out neat hat/hair/headpiece designs for the rahkshi heads.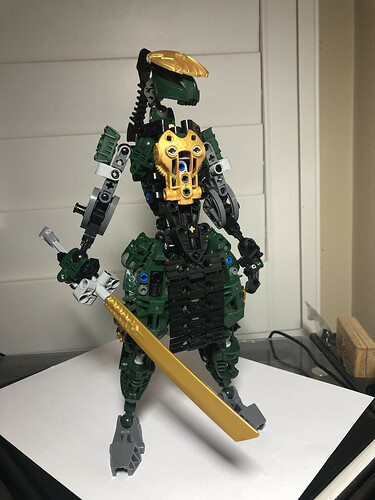 Bionicle MOC: The Samurai (2021)
THE KEEPER
Anyone here play For Honor? They dropped a new character named Gryphon recently and I basically just yoinked his whole fit. This one is the most recent so he's also the least-nitpicked, and I'm sure I could improve on him if I had more free time.
Bionicle MOC: The Keeper (2021)
Click the links for more pictures, and updates will be real soon I promise. In the meantime tips, comments, general human interaction (please I can't go outside) are all very much appreciated. Love you all, stay safe.
-Yo_Yo_Piraka