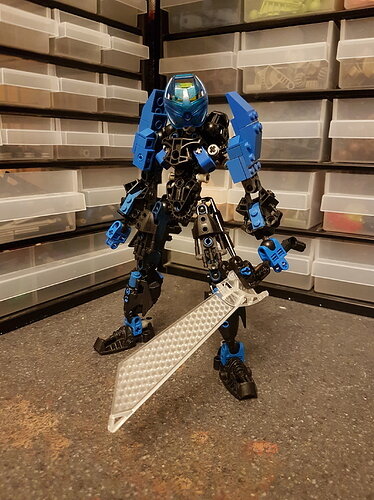 Hello boards.
What you see in the picture above is one of my new mocs who happens to be a table scrap so I don't have much of an idea of what to do with It so I'm asking you to do something with this character and in form of a game, sounds fun, right? Well I hope so at least.
Anyways there are some rules and clarifications I need to make first. I won't be all up in someone face if they break any of the rules but please do follow them anyways I don't like being to bossy on people.
All post must align with the boards rules
So that as many people should be able to contribute with something I've set a temporary maximum of 250 words per post per player. This means that you can write a 250 word long post first and then at a later time write another one that doesn't continue on your last post but give others a chance to contribute as well
After 100-200 post if it ever reaches that amount I will try to merch everything into a fully fletch character.
All posts I've checked will be quoted in this post so if it isn't quoted don't worry I probably just haven't read it yet.
So what information about this character do we need to know:
Name(I will take more than one name for this character the first name will be its name the rest I'll count as nicknames or names it goes by.)
Personality
Profession
Title
Rank
Species(All species choices you make I'll post in a poll after it's over where you can vote for what you want it to be.)
Other(Anything else you would like to add to this character.)
Backstory/Bio(Everyone can contribute almost anything that could be related to its backstory but please try to keep it somewhat consistent with what others has posted.)
That's all good luck and have fun. Happy writting everyone. Also @Mods if you think this is in the wrong category feel free to change it
Posts I've read and that has been checked