These are really cool! Good job!
What mask is the yellow one using?
That's what I was thinking
I really like these, they remind me of something that @BlackboltJohnson would make, and that's a compliment.
Showing how fancy parts and building techniques aren't required for a good looking moc, you just have to make a well colored well shaped moc.
The left foot on the final image actually confused me with that back assembly, thought a new part came out but it's just 2 parts that look almost flush.
To be honest, I didn't pay attention to who posted this and just kinda assumed it was him.

I love these guys, though. They're alright on their own, but for some reason when you pose them together it just looks great.
Looks like split face got some new friends
Well, not as simple as you say. Good job, I like that split face guy
These are rad. Great job with the bright, clean pics too. The sword for the red guy is top notch. Do you have any pics of that from a different angle? It's kind of hard to see the hilt in these pics.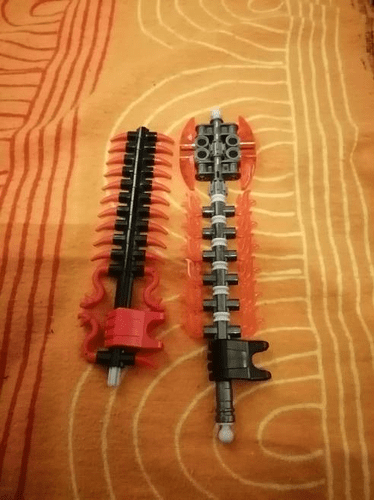 took the top off but here it is
Holy smokes. Those are way cooler than I thought from the original pics. Great job. Stacking those lightsaber hilts like that was genius.
Those are lightsaber hilts?
The sword looks so amazing
These are how you do hero factory mocs