no, it isn't. When it happens I have full bars. Im going to try on one of my family member's devices and hopefully that works.
People are bad at this game.
And what makes you say that?
My gf and I get impostor together fairly often and slaughter them like pigs
my drip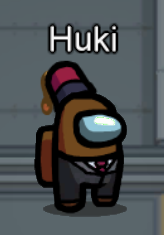 I know this might not be the best sample area, but it is the vast majority of people I've played with. Whenever I've gone online with strangers it's just a mess. I've encountered a handful of decent players, but most have been quite awful.
i have fun when i play
is only game, why you hef to be mad?
The Skeld is definitely the best balanced map in terms of design, but there are fun aspects of the second one and Polus isn't that bad either. Polus feels a bit tough because people clump up the most on it but I think I just have plenty more to learn about playing Impostor on it.
Usually I get okay players, with some that are just jerks (crew mates coordinating with impostor via discord and refusing to vote imposter for example)
I once had my fellow imposter snitch on me after I was forced to vote for him.
well some players are meanie heads
I finally caved to peer pressure and bought the game
When this fad dies my wallet will cry over the five bucks it lost
What annoys me the most is when tons of people leave when the game starts if they don't get imposter, like, it isn't really hard to win as crew, and you don't need to be imposter every other round.
Also, my Bionicle obsession is spreading to other things, I go by Onua every single round.
Guess what happened again.
this is why you don't play with randos
IM NOT THE ONLY ONE WHO SAYS RANDOS!
Randos can be fun to play with sometimes, there's just a few bad oranges.
you mean a few bad carrots?