A while back, I made a topic about the Karda Nui vehicles, discussing the issues they'd run into with real-world physics. It made for what, I thought, was a pretty enjoyable discussion. But of course, 2008 wasn't the only Bionicle year to feature vehicles. 2009 also had a slew of full-size vehicles for the constraction figures to ride.
However, the vehicles from 2009 were all land vehicles. Designing a land vehicle is nowhere near as complicated as designing an aircraft. When it comes down to it, all you have to do is take a couple rotating axles, put wheels on either end, give it a chassis, and boom. You've got something that can move on land. Of course, you do have to take the terrain into account, but still.
Therefore, it's pretty clear that the Bara Magna vehicles adhere to the laws of physics rather well. I mean, look at the Cendox V1.
This is essentially a snowmobile, except it's driven on desert sand (a sandmobile?). Desert sand can be rather loose, but then again, so can snow. That's why dirt bikes and snowmobiles have suspensions and similar mechanisms built in: so they can deal with loose or uneven terrain.
Only point of note is that, if a snowmobile goes across a hard surface for too long, it can wear down the front skids. So Crotesius should probably avoid driving his vehicle on rocky surfaces.
As for the Kaxium V3…
No real problems here, either. This vehicle can essentially serve as a motorcycle with a sidecar, but when the vehicles break apart, they can just function as their own separate dirt bikes.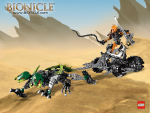 The Baranus V7 is meant to be a chariot, meaning it doesn't have a motor of its own. And, once again, no laws of physics are broken here. The Spikit might get tired after a while, but then again, all animal-drawn vehicles have to deal with that.
Unfortunately, the Thornatus V9 seems to present some actual problems.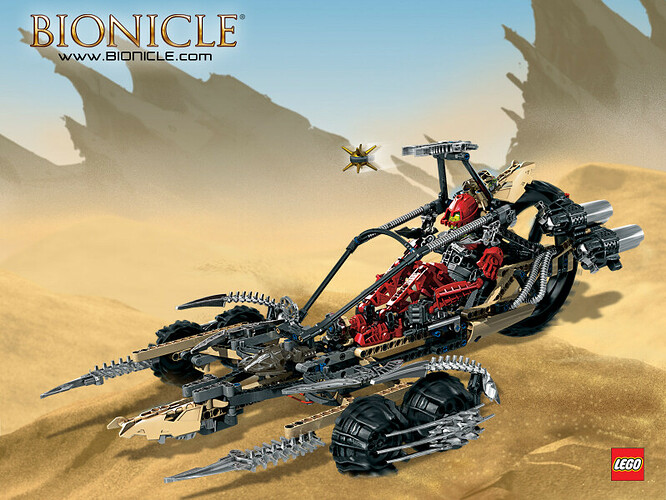 This is like a scaled-down dragster. You've got a humanoid driver in a cockpit, and it's really streamlined, and it seems to be comparable in size to the Axalara T9 from Karda Nui. The front half of the vehicle seems way too small and flat to house an engine, so it's probably underneath Perditus' seat. But here's the thing: in The Legend Reborn movie, we see three Glatorian riding it. A vehicle of that size carrying three beings that probably weigh even more than a human…yeesh. Like I said, the area under the driver's seat seems like the most likely place for the engine to be situated, but it would have to be a REALLY powerful one.
Oh well, we've already established that the Axalara T9's engines can exert a force of seven million pounds of thrust, so that's not such a stretch. As a side note, the smallest roadworthy car in our world is only two feet tall, two feet wide, and four feet long. And its driver can legally drive it at 25 miles an hour on roads-so he can't go outside residential areas.

That speed is nowhere near as fast as the Thornatus V9 goes in TLR.
Fortunately, the Skopio XV-1 fares a lot better.
Since this war machine has only one passenger and is a lot bigger, it has plenty of space to house engines powerful enough to move its treads. And when it's walking, no problem there, either-provided that its treads aren't too loose and they don't become rollerblades. The Skopio monster we see in TLR rectifies this issue by having those spikes at the bottom of its legs, implying that it walks on its claws. But it's still believable that the Skopio XV-1 vehicle can function like it's advertised.
So yeah. All things considered, the Bara Magna vehicles (with the possible exception of the Thornatus V9) are a lot more realistic than some of the other Bionicle vehicles. But then again, none of them ever tried to fly, so there's that.