Hello everyone on the Boards!
So, I've been accumulating knowledge recently from a bunch of videos trying to wrap my tiny little drawing brain around the concepts of painting.
Luckily for me I achieved a sort of breakthrough where I finally realized that painting is all about shape and color, two aspects of art I really enjoy. So now, I need to put into practice everything I've been passively observing, and this is the first attempt at that.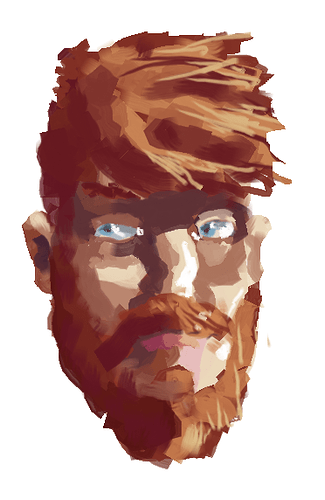 This is just a face sketch of Damian Drost, an OC of mine and my former D&D character. Obviously, I still have a lot to work on. The colors are a bit off in this one, and a bit lifeless, the lighting is a little off, and edge control has always been tough for me to learn. Bear in mind, though, this was done on a whim using only my mouse and Paint, because I didn't have access to my setup at the time (and Paint is just an easy, stress-free environment to mess around in).
That being said, I'm actually pretty happy with how this one turned out, for an initial foray into painting with this new understanding of mine. I'll probably move on to some actual studies next, simpler things to really hone the skills, but this was a nice exercise.
Cookies:
As always,
Comment and Discuss!