What do you all think about this show?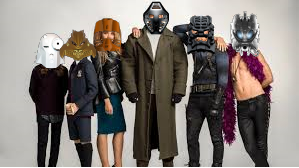 To those who don't know, The Umbrella Academy is about a group of adopted family superhumans who do… super stuff (I can't explain without giving spoilers to its plot). To implant my own opinion, I think this show is fantastic and I would recommend it to anyone who is into superhero themed shows.
From left to right their powers are- Resonance, Space-Time Jumping, Influence/Rumor, Super Strength, Accuracy, and Necromancy. I know their powers don't exactly align with these masks, but I chose the Matatu, Olmak, Komau, Pakari, Sanok, and Tryna to represent these powers as they are closest to how the characters use their abilities.