After days of hard work, I proudly present my submission for the second canon contest. Meet
Artakha: The Allfather
I wanted to something unorthodox. Many submitted MOCs, despite being amazing builds were just, as somebody jokingly called them, Bufftakhas (referring to them being just "Big Dudes").
From the beginning I had a pretty good idea what I wanted to do.
My Artakha is in fact very inspired by Hellenic myths. As you can see, he has a total of 12 limbs (6 legs, 4 arms and 2 wings), and that's for a good reason - he's based on the mythical Hekatóncheires (The Hundred-Handed Ones). Of course, he doesn't have 100 limbs (as it's impossible to physically do), but I gave him many limbs.
If you don't know Hellenic myths well, the Hekatóncheires helped Zeus to overthrow the Titans and along with Cyclops made the lightning bolts for him.
My Artakha is also a Centaur - but that's obvious. Some centaurs were known for their wisdom, though.
I also thought that four arms would help him is the being a smith, as he could do more things at once.
When it comes to the build itself, I wanted to blend all the eras of Bionicle together and for it to look as a believable Bionicle set. It's a big problem I have with many MOCs - they look amazing, but I don't think LEGO would ever make something like this. While mine design is simpler, but looks like an actuall LEGO set.
Later images are screenshots from Stud.io, as rendering them all would be a nightmare.
Front
Side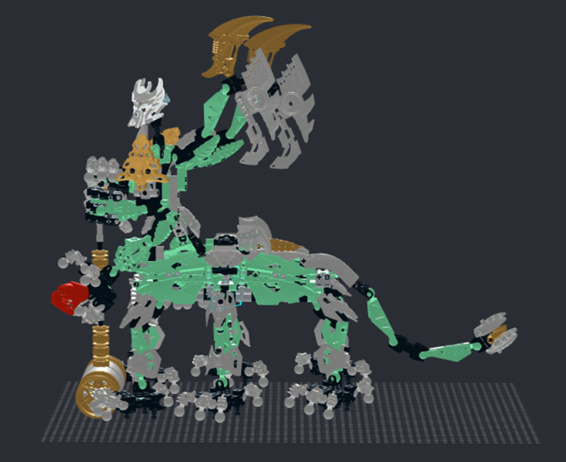 Second side
Back
Top
Leg design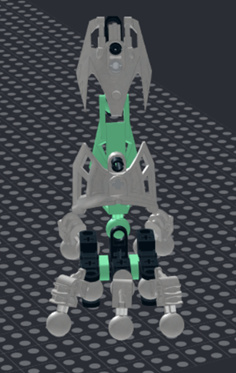 Foot/hand design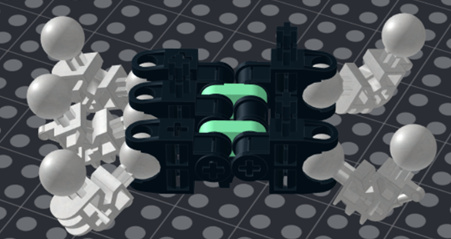 These length-2 axles are present only on feet to help the model stand.
Upper body - front
Upper body - side
Lower body
(Note the two Avohkiis there - a little nod to old Rahi designs with Kanohis serving as normal parts)
Tail
Lower body - inside (no top)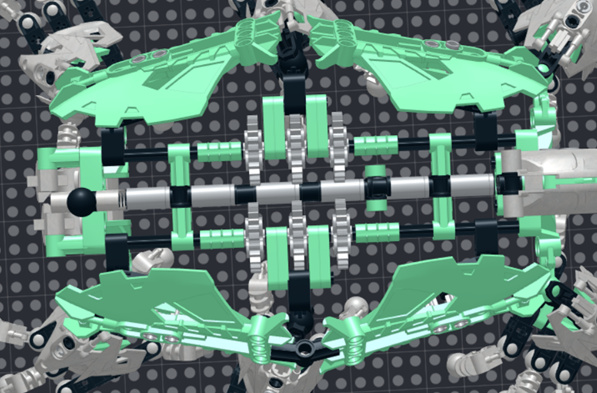 The gears do not move - they are here just as a detail
KhingK's Mask of Creation (just make it canon - it's a perfect design!):
Link to .io file (Google Disc):
https://drive.google.com/file/d/1FxqizSt7sxBDtCH3TtyXHQAhUtcntB5B/view?usp=sharing