Been going on a BIONICLE nostalgia trip lately and once again I find myself thinking about what could have probably been had the line not grinded to a halt in 2010.
As some of you know, a 5th and 6th movie were planned as part of a trilogy that began with The Legend Reborn in 2009. For obvious reasons this never happened, however a rough draft of the plot of the 5th movie was posted by Greg in 2009 on BZP and here as well (Anywhere else to read treatment for 5th bionicle film?)
The film would have seen Mata Nui and friends traveling to the northern half of Bara Magna to the Valley of the Maze. Along the way they fight the Element Lords, shapeshifting robots, they find a guy buried under rocks, a defected Skrall tags along, and it ends with Mata Nui, Ackar, and Kiina landing on Bota Magna- and there are dinosaurs there. Pretty fun stuff.
So today, after being bothered by not being able to know what the characters would have looked like for the umpteenth time, I took matters into my OWN hands and decided to start a thread where I sketch ideas for theoretical 2010 sets that could have been, basing it off of what we know as to how they could have looked like.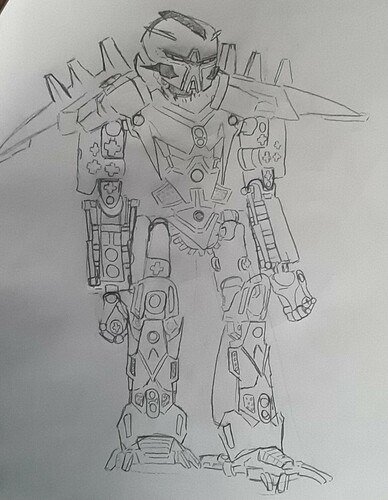 As you can see this is a rough sketch. I'll have the weapons drawn in a later post but this is a take on what the main character could have looked like. I do know that the armor on the upper arms/legs are keetorange, the torso armor piece and Stronius armor on the shoulders are keetorange, and those new armor add-ons you see on the legs are probably keetorange with black legs underneath (giving him a look where he has black "skin" covered with yellow/gold armor)
I apologize, I wish I was a digital artist but I gotta invest in a tablet.
As for the design process for the armor parts.

The movie treatment mentions how the characters are decked out in Skrall armor since the last movie. Now the easy thing would be to just slap the skrall armor piece everywhere, but these are being designed as if they were "new sets" from that time period. As such, I made new parts that combine the Skrall aesthetic with others from throughout the line, creating a new torso armor piece and a new leg add on. I have ideas for more unique parts I'm drafting. I also know next to nothing on 3D printing but I'd love to make these someday if possible lol.
Hope you guys are at the very least interested.