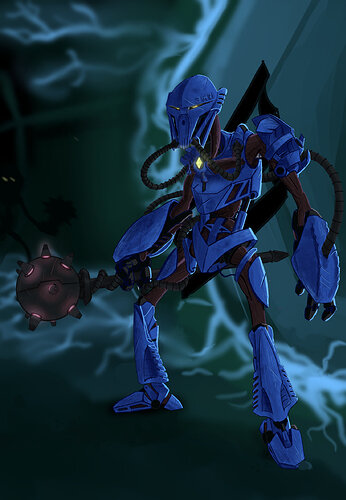 Since Helryx was the first toa ever made, it would make sense to me that she would have more exposed organic tissue than most Toa.
illustration edits

Added shield and battle damage
Polished background
Added glow to mace
The Great Mask of Psychometry was most likely made around the time the Mask of Life was, and the 2001 aesthetic is alive and well in the MOC, so I tried to work in a little bit of both. I'm happy that the mask ended up falling into 2006-2007 vibes.
Mask changes

Changed symbol to the spherus magnan crest
Outer braces changed to pistons
Polishing background and typography
EDIT: I wanted to put ancient symbols on the mask that would be unknown to MU inhabitants, similar to how the Ignika sports the symbol of the GSR.Glatorian symbolism immediately came to mind, which there are very few examples of, and no separate alphabet. The symbol of water on Spherus Magna is just a water drop… which would just look like a cartoony sweat drop on her mask if I used it, so I opted to use the three pronged symbol used in all the bara magnan tribes.
If you want to see more Bionicle art, check out my instagram: Evanetics
Good luck to all!