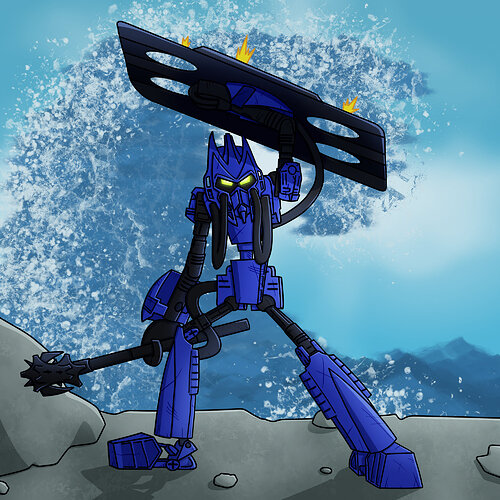 Hey gang! This is my first topic on the forums, so apologies in advance for any mistakes.
This is my submission for the art portion of the Helryx canonization contest. I wanted to go for a slightly more dynamic pose, with Helryx deflecting attacks from some unseen enemy. It took a bit of work to get right, but I'm reasonably proud of the final product!
As for the mask itself, I decided to tackle creating a custom design instead of using a preexisting one. There was no real reason for this beyond just wanting to add my own bit of creative flair. I took inspiration from a lot of sources to make this, such as the Pakari, Ekimu's Mask of Creation, G2 Lewa's Mask of Jungle, Optimus Prime (yes, really), and Scarlet Witch (again: yes, really). It took quite a while to make (you wouldn't BELIEVE how long it took to get the top angle looking even remotely decent), but overall I'm happy with it!
Good luck to all of the other submissions, and I can't WAIT to finally see what Helryx really looks like!