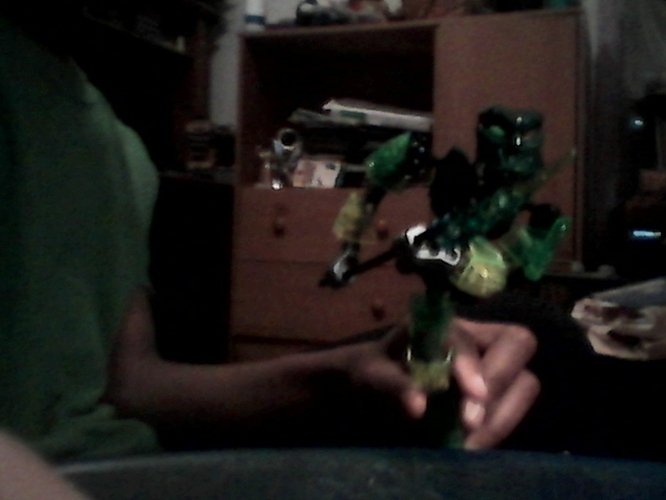 @whaddon
you'll never know mwahaha
I can't see anything
Inb4 ghost joke
Why don't you just put them down somewhere, so your hands don't cover the feet with your hands? From what I can see, it looks okay, but the head is probably empty in the back.
Is it good?
And can the first one be in a video
---
Edited for double-post. --Winter_Smith
Moved to Lego Creations~ Pekekekekomasterblaster10
Eh, doesn't really look like a ghost IMO. I would personally call it a Jungle Warrior or something similar. As for the build itself, it's a basic CCBS MOC with very little to differentiate it to any other model of its kind. I do like the somewhat consistent color scheme, though.
As for your photos, or should I say photo, they could use some work. I'd suggest pulling out an old white bed sheet, pull out a lamp and aim it at the MOC. If you don't have either available, a few white pieces of paper and a flashlight pointed at it would also work.

I'm not entirely sure why this is in the same topic as your "Ghost", since they look to be two separate MOCs.

Whaddon isn't Venom.

######I wish I was. reviewing Mocs. but my dream is to review Films
I made another moc check it out
Those are pretty cool looking, although, I think you try investing in a new camera. That'll make these images look even better.
I wonder if we will ever get any more Info on this moc
by @Toa_of_red_pins
since he is back now
So it's obvious you're
young
for age i rate this pretty good

At least he's not making mocs that would make Anita Sarkeesian commit suicide. But the camera quality still looks like the camera has a cataract.
I was expecting it to be fully transparent