It's such a forgettable thing that it's almost inevitable
.
Where's that Bionicle autopsy video that Var promised us on the cancellation of G2 and basically this thread as a whole?????
Procrastinating 4ever, along with the Product Showcase videos, Recap Reviews, Biocraft...
You must be new here.
Ah, that would explain it.
Can we all agree that if you were glad to see Bionicle G2 end then you are clearly a G1 fanboy that did not like it for a stupid reason.
I was glad to see it end. I was glad for many, many reasons. Don't assume we're all idiots, I have good reasons, which I believe I already explained many posts back in this very topic.
no because one of the benefits Bionicle g2 ending is not being broke having to buy every set /s
There is one nice reason to be glad that G2 is over, is that we don't need to sped money on it next year, lol.
Agreed. Now I can finally get my PC in order and buy a copy of Overwatch.
Or just buy a bunch of G1 sets, lol
Recap reviews are long done...
Alright I need a new fandom I can get into. I don't want Bionicle to consume me forever.
You can't. It's already too late. All of us will soon be consumed by the soul crushing despair left by the void of G2's cancellation and scream in anguish until we are left in an eternal coma.
Or, maybe you can go ahead with the whole moving on to another fandom thing. I am personally unable to comment due to the singular nature of my interests (there aren't many but what I like I like a lot)
System's got some open slots
Eljay still has 2009 and 2010 to do.
My bad...

No Eljay, you are mistaken. And lazy, the 2009 and 2010 sets have not been reviewed.
Oh, too good! So well informed that it warrants being off-topic. Alright guys, this hard worker here is doing the rest of the Recaps! And they're all gonna be out by the end of October! Whew, thanks for freeing up my time!
Ahem, a small word of advice man, never, ever mess with any of the podcast members. It never goes anywhere good for you.
Back on topic, I'm really hoping that whoever wins the art book releases photos of every page of it in a PDF on the internet.
no... i don't think that will happen.
i would like to remind you that for many of the Books released by LEGO, few people actualy takes photoes of the content.
that is unless those photoes are not deleated by LEGO.
i am currently finding it really unlikely that those images will ever be taken and posted.
Hey guys, tomorrow marks the two year anniversary of the tweet that confirmed G2 was real. Let's forget the doom and gloom for a day and celebrate that G2 even happened in the first place.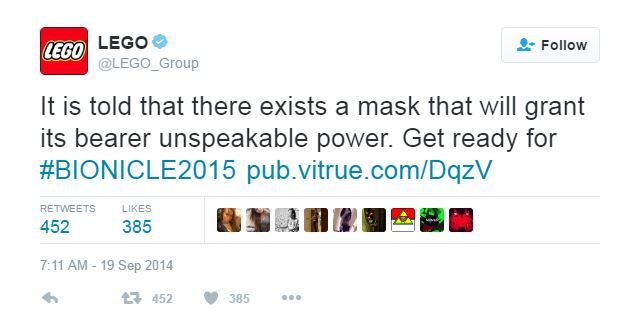 Happy early G2 Day!