Ever wanted to know more about comics but didn't want to read hundreds of issues?
Ever been curious about how many different Lantern Corps. there actually are?
Ever wonder what the Speed Force is or how it works?
Ever find yourself wondering who exactly that was in the latest end cretsits scene?
Wonder no more, my friends. Each week I'll be going over a new topic from the wonderful world of comics. I'll be using only reliable sources and my own knowledge, and will attempt to make my information as factual and up-to-date as possible.
And yes, I will be taking suggestions and requests for what to talk about.
So let's start things off with one of my favorite characters.
CCC
#1:

Azrael/Azbat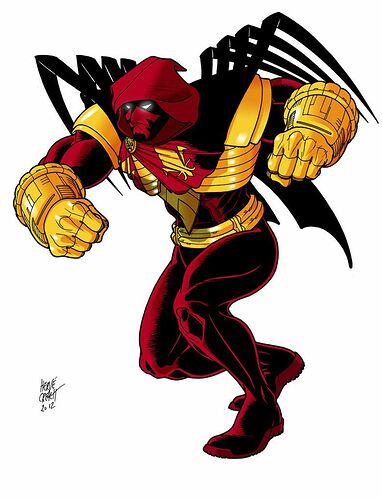 Introduced in the early 90's, Azrael was created with his entire arc firmly planned out, which is extremely rare for a character. His entire purpose was to replace Batman after Knightfall.
In-universe, Jean Paul Valley was a normal college student when his dad turned up on his doorstep bleeding and dressed in a suit of chain mail armor. He revealed to Jean Paul that he had been subliminally trained since birth to take up the mantle of Azrael, angel of Vengeance and servant of the Order of St. Dumas.His father then gives him information on how to find the order and promptly died.
After receiving training from the order, Jean Paul defected and joined Batman's team. For some reason, when Bane broke Bruce's back, Bruce didn't call Nightwing to replace him. Instead, he chose Jean Paul.
And then this happened.

Needless to say, he was a tiny bit more violent than Bruce. He even went so far as to kill a villain. Once he got wind of this, Bruce returned and reclaimed the mantle, leaving Jean Paul to return to his role as Azrael.
Azrael later died, but unfortunately I do not have any details on that. The mantle of the knight was passed to another, but Jean Paul temporarily returned to life as a Black Lantern during Blackest Night.
---
So that's the first of hopefully many. Please leave your feedback below, and feel free to suggest/request a topic to me!