##Disclaimer
Before you all go "Why are you doing this? Why does this topic exist? Why isn't it part of the Captain Marvel topic?" calm down and let me explain.
I saw Captain Marvel in theatres. I had my opinion fluctuations when it comes of it. In it's lowest points, I completely despise it and I almost completely remake it in my headcannon. In it's highest, I think it is OK, but still a bad movie. Now here's the thing: I've been wanting to make such a long "critique" for quite some time, and Captain Marvel seems the best test subject for me to try my hand on.
I am doing this to completely show my opinion about this movie. Yes, you can argue that what actually is my opinion was a little diluted by different factors, like the rather big number of reviews I saw. However, such factors did not changed it that much. Or at least I hope it didn't.
I am making this topic separate to the Captain Marvel discussion topic because I do not want my extremely elaborate opinion to be lost in that topic (even tho this topic as a whole might end up bigger than the CM topic as a whole).
I want it to be it's own thing. Obviously it will spawn talks about the movie. As long as said talks would be based on my rant, and would not be general opinions about the movie that were not ignited by this topic, they are OK. I guess… I really don't care what you guys write in the comments.
And YES. I am going to briefly touch the political controversies surrounding the movie and Brie Larson, as they are an important part surrounding this topic. The ones who know me are aware of my strong political opinions and virtues. I will try to hold them as much as possible, although I am almost certain from this point that I will have some points in which I will have diplomatic problems.
I will also use my natural kinda arrogant-kinda ironic sense of humour. To be honest, this is who I am, especially when it comes of movies and stuffs like this, so it's only natural to expect me to act like me when I am doing such a topic.
And before any of you calls the mods, let me hold you up: @Kini_Hawkeye is on my side. I PM-ed the guy months in advance, just to be sure that he, one of the most active mods, is OK with my critique review thing. He is. Not only that, but he also assured me that in a worst case scenario the topic will be closed, but I will still have access to my account (aka I won't get banned). To quote him, he said that I have "his blessings".
Ha ha you lose I win.
In all seriousness, let's hope that we will not have any problem, and that there would not be anybody who would find this topic offensive or something enough to call the mods.
Ah, by the way I don't know how much this is a "personal opinion" as it is a "semi-subjective opinion backed by a lot, and I mean a lot of objective facts". But you'll see what I am talking about.
OK, enough talking. I already kinda feel that this one page-long disclaimer was completely useless, aside of the @Kini_Hawkeye thing.
Without further ado, here we go.
~~I would like to point out that my "Blessing" in this instance carried to posting a critique without getting banned over what may be controversial. I in no way endorse the content of this piece. ~Hawkeye
I don't think anybody was thinking that your opinion on this movie will be the same as mine.
Plus, let's be honest: nothing from what I said was controversial enough to do this.
##Introduction
Captain Marvel is the 21st movie in the Marvel Cinematic Universe, which is arguably one of my favourite movie franchises of all time, if not the one. Sorry Travisverse, M:I Universe, LotR saga and Glassverse. Good luck next time.
When the very first teaser trailer dropped, I was actually hyped for this movie. Extremely hyped. Then I kinda forgot for it. When I got interest into it again, it wasn't on a positive note. I was slowly finding out about all of the controversies surrounding the movie, controversies which admittedly conquered my way of seeing the movie.
And then the movie came out. I hated it, I hated it so much. All of my fears came true. It was garbage, boring, it was bad.
Since then my opinion kinda centred a little bit, but I still have a lot to say about that.
Since I watched Captain Marvel I realised that the MCU is not invincible. Yes, Thor: The Dark World was also kinda bad, but at least it had it's charisma that was attracting me to watch it every time I was seeing the promo on television. I can't say the same about Captain Marvel, tho.
But I guess this is it. The disclaimer and the introduction should be enough. If they aren't Vladin From the Future will edit it.
You good? OK. This will hurt my fingers so much.
Let's go.
##"Small stuffs"
When I say small stuffs, I mean stuffs that are not actually connected to wider subjects and categories of this review, like characters or plot. Most of the small stuffs are theme-based.
This doesn't mean by any stretch that they aren't important. They are as important as the other categories, maybe even more important in some aspects. I just want to get them out of the way before starting with the bigger categories.
Theme
This movie has too many themes, till the point it can't handle any of them. This movie is about a lot of things. In the beginning it gives us the sensation that it will be about the relation between Jude Law's and Brie Larson's characters. And… to be honest… I would have really enjoyed it. That fight scene could have been a great set up for the two, and it seems that the idea of a continuous mentor-student theme was actually considered to be one of the main themes, as at the very end Law's character actually tries to have what I call a "theme fight" (a fight that represents the climax of the theme arc) with Carol. Big emphasis on tries.
But then the movie shifts. It suddenly becomes a funny buddy cop comedy with Fury and Danvers. OK…? I mean, it is quite the abrupt change of theme, to the point the movie kinda becomes a little inconsistent, but it can work, right? We can say that Fury is the reason why Danvers slowly drifts away by Law's character. Like we can say that while Jude Law tries to teach her to hold her emotions and to be more serious, Fury tries to make her let the things go. But of course, it didn't happen like that.
The movie suddenly shifts in theme again, becoming about the sisterhood between Danvers and her best friend, Maria. While the two previous themes can work, a third theme, this one in particular, can't. At this point the movie is just tonally inconsistent, because the writers really wanted to have Maria as a character instead of saving her (or most importantly her daughter) for a more important occasion. The sisterhood theme is useless and forced into the movie, without having any sort of pay-off. We do have an OK pay-off for the buddy cop theme, and we kinda (?) have a pay-off for the relation between Danvers and Jude Law's character, but for the sisterhood theme we don't have any. Which is very frustrating, considering the potential of the best friend character (or most importantly for her daughter).
So three themes. One of them incomplete. That's pretty much for a single movie, right? We should stop here with them, right?
Wrong.
We get yet another theme, a fourth one, which is admittedly more important for the movie than the previous two: reaching your full potential. I mean, it is obvious, right? The entire movie Carol is tied "with a hand at her back". She must reach her full potential and to learn how to use it. And to the movie's credit they kinda use it properly. Big emphasis on kinda. What do I mean by this? Well, the theme kinda fits on Carol. At the end of the movie she struggles to control her powers and her "emotions" ("struggles") and by the end of the movie she goes Super Sayan. Just one thing tho: by the middle of the movie she completely forgets of the theme. Like, she represents the positive side of the theme, the 'letting things go' side, while Jude Laws's character (I'll call him Youngledore till I get to the point where I actually need to name him) represents the other side of the spectrum, the 'control your emotions and be serious' side. Now we have set up a PERFECT theme, in which the protagonist and the villain are complete opposite forces of it. So the final battle should be the theme fight of the movie, in which Carol's completely rekts Youngledore while letting things go, achieving her true potential. However, she rekts him in a completely unsatisfying way, just for the sake of a joke. Really movie? A joke? Do you really want to sacrifice the climax of the theme and the story for the sake of a joke? From a theme perspective, the final confrontation with Youngledore is a complete disaster. It doesn't achieve anything aside of making the plot forcefully go forward. This could have been completely awesome, it would have fixed the "Danvers vs Youngledore" arc I talked earlier, it could have been a redeeming quality of the movie, but scratch that, let's make a joke. Kids like jokes. Kids bring us money, so jokes bring us money.
Besides, this fourth theme isn't even complete by itself, because when we get to the second theme of this movie, the "Buddy cop" theme, Carol is already letting things go. She is jokey, she laughs with Fury. She basically embraced what she has to learn at the end without any struggle. She doesn't learn anything out of it, ruining the entire theme. However, at the end of the film she suddenly forgets that letting things go is a good thing and she is up to the fourth theme again. So the fourth theme not only that has no pay-off, it also is inconsistent by itself.
Not only this, but it seems that half-way through the movie Fury becomes self-aware and tries to push Carol back on the "Danvers vs Youngledore"/"Reaching your full potential" double theme arc. When he says "I recognise a renegade soldier when I see one". That moment is when Carol should realise that this whole time she was letting things go, and it was good. However, she doesn't realise this push, and Danvers continues going on her inconsistent path.
And if four broken themes are not enough, there is a fifth theme: standing up and be who you are. OK, this one kinda ties to the "Reaching your full potential" theme, because by the end of this theme, Carol should have recognised her true identity and become the person she actually was. But no… If the other two themes have no pay-off, this one would not have either. I mean, it kinda has, because very conveniently at the end of the movie Carol is supposedly the person she was before the brain washing. I say supposedly because we have no idea who she actually was before she became a Kree. I also want to add that "standing up" was teased multiple times in the movie, with the many montages of Carol literally standing up after mean guys were telling her what to do, but I'll talk more about that later.
OK, now let's recap, shall we? The "Danvers vs Youngledore"/"Reaching your full potential"/"Standing up for who you are" tri-thematic arc? Very conveniently ended in a rushed, extremely messy way. It seems that the writes really were not able to figure out how to end them in a pleasant, good way. This, or they really wanted to sacrifice the whole theme of the movie for a joke, which kinda seems more likely. I am sorry, but I am not going to forget it. This is the sin nr. 1 of this movie: they completely, intentionally, broke the entire theme of the film just so that they can have a joke in which Carol shoots a mean, punny guy like 100 metres away. I am not forgetting that, and any critic shouldn't either.
The "Buddy cop" theme? This one might actually be the most consistent, even tho this means the inconsistency of the try-thematic arc of the movie. Meh, it kinda worked, and it kinda had a pay-off at the end when Carol gives Nick the device thing that he uses at the end of Infinity War. So this theme actually kinda pays it off. Maybe this is why Fury's character is the best in the entire movie. I'll give the movie credit for that, tho this credit is compared to the mess that it is the tri-thematic arc like the ant compared to the laptop I am writing these words on.
The "Sisterhood" theme? Completely useless, inconsistent, and has no pay-off. It pops out of nowhere, with minimal teasing, and is there just for the convenience of the plot. The movie would have been exactly the same without it. Actually no, it would have been better. It would have given more time for the development of the tri-thematic arc. I am not calling it a sin, tho, as it kinda had enough potential to remain memorable.
The Tesseract
I saw a lot of people raging about the Tesseract's presence in this movie and, to be honest, I don't really care that much. I think the movie could have worked without it too tho. I am pretty sure that there would have been a way to give Carol her powers without milking the last Space Stone juice there was. But even then, I am not that mad that they kept it.
However, the Tesseract was used mostly as a joke, especially when it comes of Goose's scenes with it. This is especially insulting when this is happening right after Infinity War, the movie in which we finally see the Space Stone used properly, in a scary way actually. So imagine: the thing that decimated half of the universe, 4 billion humans plus God knows how many Skewes' Numbers, was eaten and vomited by a cat. And before any of you tell me "No, it is a Flerken", it doesn't matter. It still plays the role that a cat ate the stone for laughs. The simple fact that the cat is alien doesn't change the situation. The thing that had the possibility to tear every single atom in the entire Milky Way apart, before bringing them back and using them to bombard a Neutron Star before turning every remaining piece of reality into freaking SUPER MASSIVE BLACK WHOLES… Inhales… was eaten and vomited by a cat. Sigh… I really hope that Goose vomited it in the first place only because the Tesseract was slowly burning his stomach from the inside. I mean, the thing teleported Red Skull all the way to Vormir. You can't tell ne that a cat's stomach would be worthy to have the stone and Red Skull wasn't.
Exposition dumbs
Not much to say here. Captain Marvel really doesn't know how to handle exposition, one of the most crucial parts of the story. At the very beginning the AI lady is telling Danvers like… everything about the Skrulls and their plan. Obviously, this is an exposition dumb, and a bad one at that.
But why is it bad? I mean… at the beginning of the movie we see Danvers training for her mission! Maybe she didn't knew all the details of the Skrulls before it! Maybe that was her very first mission!
That… Actually makes sense.
For real now, if we try to look past the movie's need to explain the audience what the hell is happening, this exposition gives us the sensation that this is Carol's very first mission, and that the AI lady is filling her in personally because of her special powers. If it is so, then I take back my words and I apologise. However, if it actually is so, then several other pieces of the plot won't align. I'll get to that later.
There is another smaller exposition dumb, in the form of Monica Rambeau, but I will talk about it when I actually get to the character herself.
The humour
It was… there. It was composed of the "Marvel jokes" that you came to expect from any MCU movie. It's not bad. There were a few jokes that cracked a chuckle out of me (including the joke ripped off from The Mummy (although I kinda regret it now)).
The joke that I liked the most is when Danvers just punches an old lady in the train and everybody is like "OOOOOOOOOOOOOHHHHHHHHHHHHHHHH NAAAAAAAAAAAAAAAA". I know we already saw it in the trailer, but I think that it is one of my favourite scenes in the entire movie, if not the one.
But you might be wondering why I am expecting better jokes from Captain Marvel in particular. After all, it is supposed to be a more serious movie, not a comedy like Ant-Man or GotG, right?
Wrong. I already made it clear in the theme category of this review that this movie has no idea what it actually wants to be, and that it sabotages itself for the sake of jokes. If jokes are so important for this movie, at least try to make them higher than the average. Try to make them tge centre of the movie, like the aforementioned Ant-Man and GotG. Plus this would somehow help the "Buddy cop" theme a little bit more.
Again, the humour is not bad, it's just pretty average, and I was personally expecting more.
Just a girl
This category is all about the pop songs that were used in Captain Marvel. Said songs are "Crazy on You", "Kiss Me Deadly", "Whatta Man", "Connection", "Only Happy When It Rains", "Crush With Eyeliner", "Waterfalls", "You Gotta Be", "Come As You Are", sigh, "Just A Girl", "Man on the Moon", "Please Mr. Postman" and "Celebrity Skin". Observe something? There are way too many pop songs for what Captain Marvel supposed to be. At this point, with all of the thematic swifts, the jokes that brake the story and that are meant to attract a bigger audience, and now the rather big number of pop songs, you can observe a divide in this movie. It almost seems that in it's first half it tries to be serious and to actually show a story, one important for the MCU as a whole, while on the second part it tries too much to be like the GotG movies. It doesn't work. You can't be serious, like an Iron Man or a Captain America movie (which I assure you, this was the theme meant for Captain Marvel) and funny and laid back, like the Guardians, in the same time. It's too big of a swift. And the said swift is easily observable, with the war that is going on between the themes, the elements and all other kinds of factors related to this movie. I am not saying that pop songs are bad in a movie about the 90s, but before you go all crazy with all of these songs, actually think at the theme, man!
Personally, I don't have a problem that big with all of these, except for one. Using "Just a Girl" in the middle of the "final battle" is a bad idea. I mean, not even the Guardians had pop songs in the middle of their big, important moments. Even in comedies, those are meant to be serious.
I could also talk about how the movie uses it's set-up into the 90s for cash-grab (unlike, let's say, Wonder Woman, which actually uses the set-up into WWI to its advantage), but seeing that I wasn't born into the 90s, I don't think I will be able to talk about it to the level I talk about everything else. Maybe there are people who actually felt the 90s nostalgia. I dunno, I wasn't around yet.
The directors
The main directors of Captain Marvel were Anna Boden and Ryan Fleck. If you haven't heard of them then you aren't exactly alone.
Let's look on IMDB, shall we? Apparently, this couple team worked together on several films, those being Half Nelson, with a score of 7.2, It's Kind of a Funny Story with 7.1, Mississippi Grind with 6.4 and, of course, Captain Marvel with a clean 7. See a trend here?
In all seriousness, I haven't seen any other movie made by them, and Captain Marvel convinced me not to do so. I am scared to see the scores of their individual films. The thing is that these two are responsible for the mess that it is the theme of this movie. One of them tried the serious, female empowerment path (remember my Iron Man and Captain America examples?), and the other wanted a funnier, laid-back comedy with Nick Fury and Carol Danvers. Something tells me that the former one is Anna and that the latter one is Ryan. Unless neither of them realised that we actually need a unified theme for a movie.
Like I said, the second half of the movie seems to be a total different story than the first one, and that thanks to the divide between the two directors. I bet my money on that.
Besides, these guys were responsible for everything from the story to the "continuity", but I will talk about that later.
Vladin From the Future note: OK, I actually looked through their IMDB pages, and apparently they worked together more than four times, to the point in which one barely made anything without each other. The lows are really low and the highs don't pass 7-8, so their works are pretty average, tho I kinda have to give them a little more credit retroactively.
Rotten Tomatoes
At the time of writing this, Captain Marvel has a 78% at critics and 55% at audience. Ouch… Another The Last Jedi case. Tho the divide it's much smaller.
But at the beginning of the movie's run we had this score: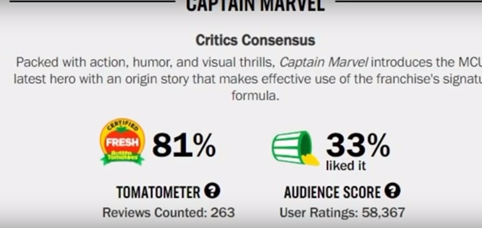 And then they deleted a few tens of thousands of reviews, claiming that they were "trolls" (yes, sure), turning the score into this:


You know, don't you think that it's a little rotten when rotten tomatoes deletes 54k reviews and the score changed by only 3%?
Wheter they were actually trolls or not its pretty irelevant, really.
Tho if they are willing to cover this movie up, imagine what else they would be covering.
I think this is all I had to say here.