Not sure if this should go in Community, Pandemic Panda or Creative Content so I put it here
I don't know if anybody else did this but during the Art Farts epsiode I decided to join in and do some of my own art and I wondered if anybody else did it as well. Anyway this is what I did during art farts; if you did anything as well, feel free to post it.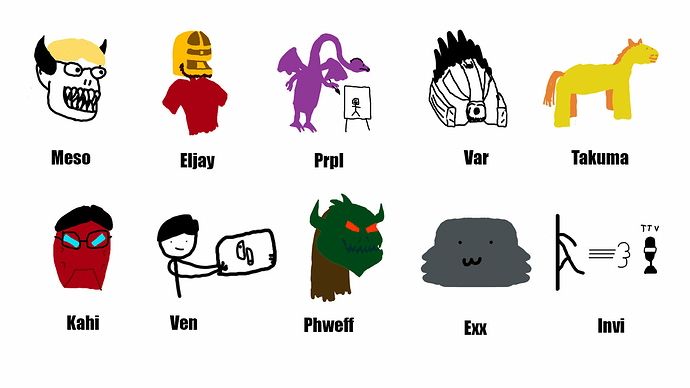 I may have taken longer than 1 minute to do these (and by that I mean 1.5-3 minutes)
Also I included a few extra cast members.
Meso I went for the classic skull combined with his actual face.
Eljay I did the same thing with the Miru.
For Prpldragon I went for a more…literal approach (also she's painting a picture).
Var is the Kakama from his Self-MoC+ beard and hair (which I may have gone overboard with.
Takuma…ponies…yeah.
Kahi I tried (and failed) to do the Calix from his Self-MoC + his hair and glasses. It didn't turn out so good.
Ven I couldn't remeber what mask he wore and I wanted to do more than just draw his face and the only thing I remember him doing recently is getting a Switch so…
Phweffie I just drew a Piraka with long hair…
I think you can tell what my thought process was for Exx.
Invi I know very little about other than that he was gone for two years so I just drew that.
Feel free to post anything you drew in the topic as well I really don't want to be the only person in this topic.